A Little Party Never Hurt Nobody
Large gatherings need to stop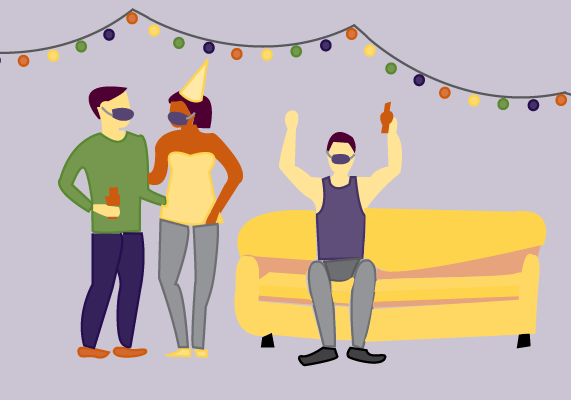 Once the school year ended, people went straight into the summer magically thinking that corona had disappeared.
Parties and large gatherings were thrown all summer, not only in our area but in major cities like Los Angeles and Las Vegas.
Don't get me wrong, I hung out with a few friends and tried not to completely isolate myself, but I never was with more than 10 people at a time.
Since people never stopped hanging out with their friends, the cases increased, and we have had to change the way we go about our daily lives.
I understand summer is supposed to be fun, and I haven't been the most careful with following precautions either, but in order for the pandemic to come to an end, that has to stop.
A lot of students and parents were mad about the decisions being made about school and sports but then continued to hangout in immense groups — not to mention when these people hangout there are no masks present.
There were also people preaching to their acquaintances that they should social distance themselves. But then hypocritically, they would excuse themselves from the precautions that needed to be taken.
People are starting to get busy with school and jobs, so the amount of gatherings will hopefully go down — but there still are people partying on the weekends and for things like the Chiefs games.
The quicker we can social distance, wear masks and stay home, the faster we get to safely be in large gatherings and enjoy the company of friends. People should just stick with a small group of friends they see regularly and make sure their loved ones are safe before hanging out with someone new.
Following health regulations to maintain safety shouldn't be hard, and refraining from holding or attending large gatherings without masks is necessary.
Many teenagers forget that just because you are low-risk doesn't mean people around you also are. When younger people get the virus, even if they are asymptomatic, they are still putting others at risk. It's not only older people and those with compromised immune systems that need to follow regulations — younger, healthy people need to as well.
The health regulations according to the CDC recommend wearing masks in public, getting tested regularly and quarantining if you have symptoms. As of Oct. 21, there have been around 221,000 deaths in the U.S. and 178 deaths in Johnson County due to COVID-19.
Other countries recovered in a span of a few months due to serious lockdowns and regulations. Americans have had a hard time adjusting to this new way of living. For some people, their political affiliations can affect how they may view the pandemic and what regulations they may think they need to take.
Even though there are people dying, influencers in major cities have thrown huge birthday parties with up to 100 maskless guests. The influencers were posting on social media and setting the example for others that not being considerate of other people's health is OK. Just because James Charles never stopped partying doesn't mean you shouldn't.
No matter how many followers you have, what your political party is, or how low-risk you are, you should stay safe and be mindful of other people.