Girls soccer team bases season on motto 'Everybody Loves Everybody,' finds success through building team chemistry
Meghan Kennedy, Staff Writer & Hailey McEntee, News & Design Editor
May 29, 2013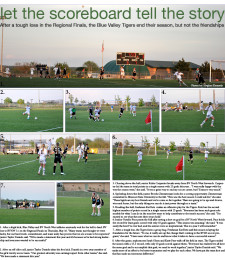 The scoreboard always tells a story — whether it's one you want to hear or not.
The first few games of the season, the scoreboard told a story no one expected of the Blue Valley varsity girl's soccer team.
Up until game 14, the Tigers remained undefeated, with 10 shutouts.
This soon became the norm for the girls, as it seemed only a few teams showed competition.
Every game, the each story had a happy ending, but on Thursday, May 16, the scoreboard told a story no one wanted to hear.
The best season as seen by the girl's soccer program in many years came to an unexpected halt as the Tigers fell to the BV North West Huskies 3-1 in the Regional Finals.
Twelve minutes into the game, the Huskies took the a shocking lead. 1-0.
The ball rolls down the field as three Tiger forwards chase it down. Approaching the goal, a shot is taken. Miss.
A quick ten minutes later, the Huskies score again. 2-0.
With a mere five minutes left, the Tigers minimize the lead to one goal. 2-1.
In the last moments of the half, the Huskies score their third and final goal, being the only team to score at least three goals. 3-1.
The second half starts and the Tigers come out in full force.
Sprinting after every ball, connecting passes left and right, and making smart decisions, the Tigers dominate the second half.
The Huskies are broken by the energy and persistence of the Tigers, being limited to only a few shot attempts.
As the clock began to wind down, tears filled the eyes of the Tigers, as their season came to an end.
They walk off the field, head to the bench, and sit down waiting for the coaches to speak.
After the coaches talk, everyone joins in a group hug, tears streaming down their faces.
The road ended, but the friendships don't.
Everybody played their best.
Everybody fought to the end.
Everybody loves everybody.
Season
The 2013 girl's soccer team proved it's potential as a top-notch soccer program. With a record of 15-3, the Tigers only allowed 10 goals scored on them, with 50 goals scored on their opponents.
Senior Sarah Hill said this year will pave the way for the future of the BVHS girl's soccer program.
"Without being a part of the team, I'm not sure anyone can fully see our success because a lot of it came from within the team," she said. "However, our record was unprecedented this year. We were undefeated for 13 games and only lost three games all season. We got nationally ranked early on in the season, and I'd like to believe that we changed the soccer culture for Blue Valley High School."
Hill said this season has been unforgettable.
"Although we didn't make it to state, it has been my favorite season throughout high school," she said. "We had so much fun the whole time, and I will always remember those memories. I'm going to miss the coaching staff, the environment, team dinners, because we all love food, but most of all, I know I'm really going to miss the girls, especially this team. It's been by far the most enjoyable team to be a part of. I was completely ready to move on from high school, until the spring soccer season hit. I love all the girls and leaving them is really difficult."
Junior Taylor Daniels said the team's greatest adversity was earning respect from other teams.
"Many teams just thought we were lucky, but our hard work, commitment, and team unity has proven that we are a team to be respected," she said. "We've made a statement this year and it's because we've had strong leadership and everyone wants to be successful."
In addition to the varsity team's success, the C and JV teams both remained undefeated. JV tied three games, and C Team only tied one.
Hill said besides their drive to win, everyone wanted to be a good teammate, and that ultimately led to the team's success.
"I think there was a shift in everyone's attitude," she said. "I don't know exactly what caused it, but everyone was suddenly on the same page. We all wanted the same thing, and we worked extremely hard all season."
E.L.E.
The Tigers showed their stripes when, even after a loss, they remained strong. The undeniable team chemistry held the team together, even against their toughest opponents.
Sophomore Amanda Palacio said it's amazing to be a part of something so successful.
"This has never really happened for girls soccer at BV thus far," she said. "The girls are like family and it's a great way to get involved and be a part of something."
Daniels said this year was different because everything clicked within the team.
"Everyone has realized we all have the same goal and to accomplish that goal, we need to work together," she said. "We make more of an effort to be better teammates and we play for each other. We have put the team first and that has made an enormous difference."
Hill said the team chemistry was key to their success.
"We all love each other and therefore trust each other," she said. "That trust allowed us to play as a unit on the field. It was essential."
The team chose "Everybody Loves Everybody" as the motto because they believe team chemistry is an important factor for a successful team.
"If everyone loves everyone then the team plays and flows better," Palacio said.
Palacio said she thinks this team has broken through and greatly exceeded everyone's expectations.
"I think team chemistry and "ELE" has really played a major role," she said. "Everyone just kind of flows together and we have a lot of depth. We all have the same goal and everybody is working hard to get there."
Daniels said the phrase has created a strong bond within the team.
"It has become a reminder of why we are here," she said. "We want to give everything we have to be the best we can be and make memories with amazing teammates in the process."
Palacio said the senior leadership has guided and inspired the team throughout the season.
"The seniors are the ones who really get us excited, pumped, focused and ready for the game," she said. "Even the non-captains step up to the plate and lead by example every game. I couldn't have asked for better seniors than the leaders we have this year."
Freshman Kat Retz said this season has exceeded her expectations.
"Everyone has been great role models for what I can do in the next few years to help contribute to the team's success," she said. "Overall, I'm excited to see how this year will play out and what the next three years hold."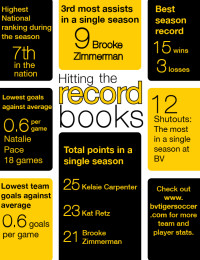 Future
Whether going to play in college, continue their high school career, each girl experienced growth to carry on to their next season.
Retz said this season has made her excited for the remainder of her high school career.
"To me, it really sets up the change that's coming to the BVHS soccer program," she said. "I have seen what we can do and know what it takes to have a successful season."
Hill said she believes the team will be successful in the future.
"I know that the girls are going to do great things next year," she said. "With all of us seniors leaving, there will be a gap to be filled, but the current juniors are going to make excellent senior leaders, and I think their success will top this year's."
Junior Jansen Hess said she has a positive attitude toward next year.
"I'm really excited for the season next year considering our success this year," she said. "Even though we are losing some vital seniors we're bringing up some talented underclassmen, and next year we will have a lot of seniors."
Junior Brooke Zimmerman, who will be playing soccer at Missouri State University in the fall of 2014, said this season has prepared her to play at the next level.
"This was the best season I could as for," she said. "These girls are my best friends and we've come so far together. There are going to be ups and downs, wins and losses, but the only thing you can do it just power through as a team."
Senior Kelsie Carpenter said she will never forget this team and season.
"I was really happy with the way the season went," she said. "It was a great way to end my soccer career, although I'll miss it very much."
Hill said the fan support helped the team reach their success.
"I just want to say thanks to all our fans this year," she said. " I saw more support from the school this year than in any previous year, and I think that will continue in years to come. It was an amazing season, and I'm so glad we could celebrate it with all of them."