Reaching the Goal: Soccer team focuses on small details for improvement, sees success in current season
Stepping onto the field in their first rivalry match of the season, the Blue Valley boy's varsity soccer team notices one thing — fans. Not just four or five seniors, but about 60 students dressed head to toe in Hawaiian apparel, corresponding with the game's theme. The boys' faces light up with excitement as they have their biggest crowd in years. A BV defender runs up the field with the ball as three BV West mid-fielders charge him. He fakes left, then goes right, no longer near the opponents. He crosses the ball to forward senior Sam Roussopoulos who runs to the corner. Pulling the ball back between his legs, Roussopoulos avoids West's defenders. He crosses the ball to forward senior Ben McDonald, who takes one hard, powerful kick. Goal. Absolute chaos erupts within the stands. Leis are tossed in the air. Beach balls fly. However, the team's still down by two goals.
Making an Improvement:
Varsity soccer coach K. Dean Snell said the team goes over similar drills as they have in the past, but the returning varsity experience has made them more successful.
"One of our main focuses this year is paying attention to discipline and detail, and [the players] are doing a very good job of doing that," he said. "The kids just got bigger, faster and stronger. They've gotten more skilled, and they have a better understanding of what the competition will be like. One of my philosophies is that the little things are what make a big difference, and they're doing all of the little things."
McDonald said the biggest difference from last year's team to that of this year is the level of experience each player has.
"I experienced the State run sophomore year first-hand," he said. "I try to use that experience to help some of the younger guys that are in the same spot I was two years ago. Most of the guys have a full year of varsity experience now. This team has a confidence about themselves that we just didn't have last year. We're learning from all of our mistakes from last year because we lost a lot of games last year that we shouldn't have. This year's team fights until the end and finds ways to win games."
Roussopoulos said the team started the season with intense practices to prepare the new varsity players for the season.
"We took our first couple practices really fast and really serious to show what a varsity game would be like," he said. "When we played West, Snell put them in the game for a little bit to show how fast the games are, and that has helped them better prepare for the rest of the year. Oh, I just love Snell. This year, we're focusing more on our strengths as a team and working more on formations, and that's done wonders for us."
As of Oct. 7, Roussopoulos had 13 assists on the year, breaking the school record for most assists in a single season.
"[Breaking the school record] feels pretty good, I guess," he said.
McDonald said he is proud of Roussopoulos for breaking the record.
"I couldn't be happier for him," he said. "He is such an unselfish player and absolutely deserves it. His assists have won us a lot of games already and makes my job a lot easier."
Roussopoulos said the team has been working really hard on strategies to get the ball in the net.
"Early on, we did lots of running to stay in shape and be able to play for the full 80 minutes," he said.
All About the Fans:
Snell said the strong fan base has boosted the players' morale.
"I definitely think the fans have an impact," he said. "[The team] plays with a little added pride — they have a lot of pride to begin with in the program, themselves and each other — but when they see their peers at the games or know they're coming, it's a little added incentive to perform to the best of their ability. It's been awesome to see the fan support from the school."
Roussopoulos said the fans have had a huge impact on the way the team plays.
"It's fantastic to see all the fans," he said. "The first West game — man, that was just wonderful. Coming out during halftime and just seeing everyone was probably one of the most wonderful things I've ever seen. We might have had that many fans at the State finals game two years ago, but never at an actual season game. I don't think I'll ever forget it. "
Captain Chemistry:
The 2013 varsity captains are McDonald, Roussopoulos and senior Jackson Macoubrie. 
"I think [the captains] spend some time together talking about the game and the team," Snell said. "I talk to them about the expectations for the team, so I think they work real well together. [McDonald] is more of a vocal leader, and [Roussopoulos] is more of a one-on-one leader in terms of talking to the players on the team. [Macoubrie] is more vocal, not so much in team meetings, but more on the field. They all lead by example with how hard they work."
There are 10 seniors on the team this year.
"This year, the senior leadership has been good," Snell said. "About six of the seniors play quite a bit and have started at least one game. They mainly lead by example — they're focused, and they challenge the underclassmen to play to their potential. I think it is hard for the younger players to adjust to the field of play, but they take it as a challenge. They don't play scared."
Roussopoulos said the guys have strong team chemistry.
"We're all just a big group of friends," he said. "You can tell that by just looking at us. We have this big group chat, and it's one heck of a group chat, that's for sure. It's something else."
Snell said having the players get to know each other on and off the field has made a huge difference in the way they play.
"We have done a lot of little things — nothing huge — like working on team chemistry," he said. "I think that has been a key factor to their performance. I think the biggest goal for us is to get better every day in everything we do. One of the things I tell them everyday is if we continue to improve, the record will speak for itself."
Raising the Bar:
Since it is their last year, McDonald said all the seniors give their best effort every game.
"The biggest goal for me is for this team to have no regrets after the last game," he said. "Hopefully, that's at State, but we have some work to do to get there. I just tell [the team] these games we play are going to be what we look back on and remember about high school. Also, just to give it all you got for your teammates out there and play with love in your hearts."
Roussopoulos said his main hope for the season is to have a winning record.
Snell has coached 25 years, entering his 13th season at BV.
"I was an athlete all through high school and college," he said. "I feel like what I'm doing now is my way of giving back to what I got and the experiences I had when I was competing. I receive a lot of energy from the kids when I see them work hard, and that encourages me to work harder and to be a better coach today than I was yesterday. I've always said when you stop having fun with what you're doing, then you need to stop and ask yourself why you keep doing it. I'm still having fun coaching and as long as I'm still having fun, I'm going to keep doing it."
About the Writer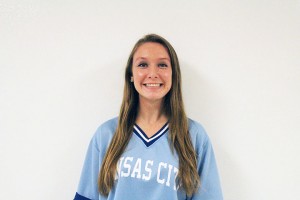 Meghan Kennedy, Staff Writer
This is senior Meghan Kennedy's third year on the Tiger Print staff. She is a staff writer who loves writing anything about sports. Outside of newspaper,...