Kickin' It: Senior wins first in nation, harbors Olympic aspirations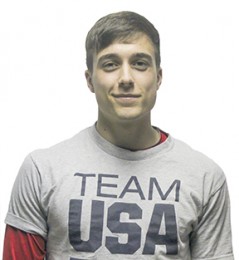 Ranked first in the nation, senior Brandon Fordiani is a second-degree black belt. Fordiani has been training at Ko's Black Belt Academy since fifth grade. He said he will be satisfied once he reaches his goal of making the Senior National Team and going to the Olympics.
Question: When and how did you get started? 
Answer: "I got started in fifth grade when my friend was getting his black belt, so I thought I would try it out."
Q: How did you reach this rank? 
A: "I just trained a lot — I go six days a week. I've been doing this for about seven years."
Q: Are you planning on going to the Olympics? And how do you qualify? 
A: "I am trying to. You have to get world ranking points and rank top 32 in the world. And once you are in the top 32, you get invited to [a] tournament called the Grand Prix — there is one in each continent. You go there and fight and score points. If you become top eight in the world, you basically get to go to the Olympics. But usually it's the [top] 16 who go to the Olympics."
Q: Is there a lot of pressure on you? From where? 
A: "It's self [pressure] and kind of from my coach. When I won nationals, I felt like [winning] was what I was supposed to do. I didn't feel great because I felt, 'All right, this is what I need to do.' It was like, 'This is what I'm expected to do.'"
Q: What are your goals? 
A: "I made the Junior National Team, and now I want to make the Senior National Team. The Junior [National] Team is just [ages] 15 to 17, and seniors are [ages] 18 to 32. So, I would like to make the senior team, go to [the] Worlds [tournament] and go to the Olympics."
Q: Do you have to travel and how often? Where do you travel? 
A: "Nationals was just in San Jose, California, and it will be in Virginia next year. The U.S. Open is in Las Vegas every year, but that might be moved to Florida. I went to Colombia, South America. I [recently] got back from Costa Rica. The Pan American Taekwondo Championships were going to be in Mexico, but they are going to be in Oregon, and then I'm going to Canada in February as well."
Q: What is your usual schedule? 
A: "I train Monday through Thursday and Saturday. I also work out on my own six days a week with some days off."
Q: What was it like to win first in the nation? 
A: "Looking back on it, it was really cool. But then at that moment it was, 'All right, I did it.' I felt like I just checked it off. It wasn't a big exciting moment."
Q: Did you ever expect to be first in the United States? 
A: "No, when I started, I just thought a black belt could just [beat] everyone. I didn't know there was a competitive Olympics side."
Q: How does it affect your lifestyle right now? 
A: "My whole life revolves around [taekwondo]. [For the Olympics] I'd like to be training more. Currently, I need to lose weight to go down [to] a lower division. Right now, I weigh about 168 pounds, and the weight class [I would compete in] is under 149.9 pounds."
Q: How will it affect your future? 
A: "I'm going to college based on where national team coaches are, so I might stay here at KU. I might go to [Texas Christian University], [Southern Methodist University], Oklahoma University or University of Central Oklahoma. My future is all about taekwondo because you peak around [age] 22 to 26."
Q: How do you know that you can improve from where you are right now? 
A: "Because if I was at the top, I would already be in the Olympics. I still have a lot left to go before I'm there. I still lose some matches at international events. So, I'm on the top in the country but not the world."
Q: Do you know what you would like to major in? 
A: "I don't know yet, but my coach, head instructor of the studio, said after college, I could come back and make a good amount of money by just teaching taekwondo or marketing for the studio."
Q: How do tournaments and fighting work? 
A: "In tournaments, there's your division and a bracket for each division where you fight and move on. [For scoring,] if you kick to the body, you get one point, but if you kick to the head, it's three points. And if you spin, it adds one more point with the kick. You wear chest gear and special foot pads that have magnets in them. The magnets hit the electronic chest gear, which signals a point."