Triple Threat: Athletes juggle multiple high school sports throughout year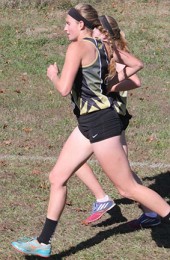 Excelling in one sport is a challenge for most athletes. They spend all of their time trying to be the best they can be in that one sport. A few athletes at Blue Valley, however, manage to succeed in three different sports — one per season.
Gabby Gunnerson — cross country, basketball, track
Senior Gabby Gunnerson is on the varsity cross country, basketball and track teams.
"I've been on varsity all four years for cross country, and I'm assuming four in track — it's been three [years] so far," Gunnerson said. "Sophomore year, I played some varsity [basketball] but mostly played JV. Last year, I started for varsity."
She said she has to train for each sport while the previous one is still competing.
"It's a lot of time," Gunnerson said. "During cross country, [I'm] training for basketball. I just have to spend time shooting. It's annoying, but it has to be done."
When training for track during basketball season, Gunnerson said she has to get up early to run on Thursdays as well as run on the weekends.
In addition to extra training, Gunnerson said she also has to be careful to avoid injury.
"I stretch a lot and try to eat right," she said. "If something does hurt, I go talk to the trainer at the school. But, I've been pretty injury-free, and I'm thankful for that."
Gunnerson said it's a challenge to manage school and three different sports.
"I sacrifice sleep a lot," she said. "I stay up until midnight usually if it's a day when I'm training for the next sport, but other than that, it's probably like 11. I usually get five hours of sleep a night."
She said sports have influenced what classes she decided to take.
"I take a lot of hard classes, but both last year and this year, I decided to not take one of the AP classes," Gunnerson said. "I knew they were very time consuming, and I didn't want to put in half the effort. So, I decided not to take [them]."
Gunnerson said her key to success is simple.
"I just give it my all," she said. "That's all there is to it."
Brendan Fletcher — football, wrestling, track
Junior Brendan Fletcher plays football, is on the wrestling team and throws for the track and field team. Last year, he was on the JV teams for all three sports but played in the occasional varsity football game. This year, Fletcher played left guard for the varsity football team and said he hopes to be on varsity for wrestling and track, too.
He said playing three different sports consumes time.
"You kind of just live at the school," Fletcher said.
He said during wrestling season, he gets to school at 6 a.m. for off-season football weights and doesn't get home until 6:30 p.m. after wrestling practice.
"I try to go to most of the off-season [workouts] to make myself as strong as I can," Fletcher said.
Handling schoolwork and sports is a challenge, he said.
"You've got to be committed to everything," Fletcher said. "You have to make yourself do homework after practice. You're really, really tired after a long day, but you've got to force yourself to do it."
Fletcher also said doing three sports impacted what classes he took.
"I took weights first hour because I want to get stronger for my sports," he said. "I didn't take honors [classes] just because I knew I wouldn't have time. You think about how much time you're going to have and plan your schedule accordingly."
Fletcher said he puts a lot of time and effort into being the best he can be.
"Give everything you got in everything you do," he said.