Getting in the Zone: Basketball teams enter season's final stretch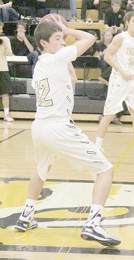 Boys team
The Tigers started their season by taking second place overall at the Blue Valley Shootout Tournament, dropping a nail-biting championship game to Lawrence.
After returning from break, the team began league play with two tough losses to BV West and St. Thomas Aquinas — a rough start in a competitive EKL.
Although the losing streak had reached three games, there was little semblance of despair when the Tigers went head to head with the Huskies of BV Northwest, who owned a 26- game winning streak against BV. At the end, the score read 69-60 in favor of the Tigers, and the season was back on track.
However, the Tigers could not capitalize on the momentum from the victory and hit the skids. Three consecutive losses ensued to Bishop Miege, BV Southwest and Topeka-Hayden.
In the midst of this streak was the mid-January Basehor Invitational Tournament at which the Tigers would see some unfamiliar foes.
A 51-25 win over Pembroke Hill seemed to get the mojo flowing again. The team picked up right where it left off in the second game, thumping Platte County, 76-43.
To kick off the final stretch of the regular season, the boys came up clutch in overtime to beat Gardner-Edgerton. Eight games remain between now and the postseason.
Girls team
The Lady Tigers opened the season on a roll, winning the first three games played before the break. As the second semester went underway, the Tigers picked up right where they left off with a drubbing of rivals BV West, 63-40.
In between two tough losses to St. Thomas Aquinas and Bishop Miege, the team recorded two crucial EKL victories against BV Northwest and BV Southwest.
Heading into the mid-January Basehor Invitational Tournament, the Lady Tigers stood at 6-2 on the season. Riding high into this tournament marked the mid-point of the season.
The Tigers opened the first of two games agaist Holton. The Tigers kept the Wildcats at arms length for most of the game and pulled away late to secure a comfortable victory.
In the first game, the Tigers faced one of their toughest matches of the season against the Cardinals of Benton High School from St. Joseph, Missouri.
After matching the Cardinals blow for blow, the Tigers had the ball with less than 15 seconds left and a chance to tie. However, a last-second turnover sealed the result and a crushing 41-39 loss.
The Tigers began their final stretch of the regular season with a close loss against BV Southwest. The team sits at 7-5 with just seven games left until playoff time.