Start Strong, Finish Stronger
Last spring, Blue Valley Tennis welcomed art teacher Kim Francis as its new head coach. The boys team, led by their new mentor, went all the way to State and snagged third from BV North in the final tournament.
This year, though, Francis is honing in on the girls — an opportunity she said is invaluable.
Francis assumed the role of head coach immediately after the previous coach Nelson Elliot stepped down.
"We have very different management styles, but I like to focus on the players —and it's all about our number- one team expectation: have fun," she said. "I believe that can look like a lot of things — team dinners, effective practices with lots of variety, winning matches, improving or learning something new even when you don't win and spending time with some really awesome teammates."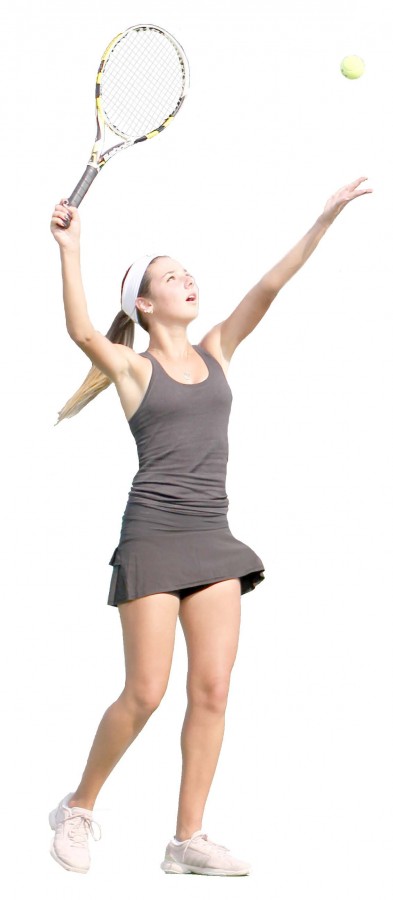 Senior Lizzy Meinzenbach said she is excited about having coach [Francis] as the head coach this year.
"She has a plan and a vision for our team, and I believe she will help build a great program for BVHS," Meinzenbach said.
Francis said she operates through positive communication and family atmosphere to empower players to take leadership roles and unlock the team's true capacity for greatness.
"I believe I have achieved many goals, especially athletically," Meinzenbach said. "I worked hard over the summer and made varsity sophomore year. I also wanted to be a senior captain, which I accomplished this year, alongside my co-senior captain Mandy Novicoff and junior captain Karishma Shah. I also never planned on going to Regionals, but I made it there last year."
Francis said she believes the key to achieving these goals boils down to the girls reaching their potential — just like the boys did.
"Both teams have unbelievable skill," Francis said. "I can't wait to show everyone what we are capable of."
Francis said the players will focus on the mental aspect of the game — especially for varsity and JV.
"Tennis is a very mental game," she said. "When you walk out onto the court not as confident with your ability to beat your opponent as they are about you, it makes the match much more difficult."
Francis said tennis isn't the most popular game to play and watch, but she wants to improve the team's popularity this year.
"I would absolutely love to start generating a fanbase," Francis said. "We talked about that during our parent meeting — getting parents involved along with their whole families. I'd like to get Blue Valley students involved also."
Student leadership is one of Francis' biggest focuses this season, which, she said, ties into the team motto — "Start strong, finish stronger."
"Our motto was thought of by myself and the other 12 seniors on the tennis team," Meinzenbach said. "Before we had captains, coach brought the senior girls together to figure out how we wanted to represent the team."
Already, Meinzenbach said she believes Francis has set the precedent for all high school tennis teams to follow.
"This year will definitely be one to remember — not just because I'm a senior but because I know we are going to have an awesome team — on and off the court." Meinzenbach said.