Dance Team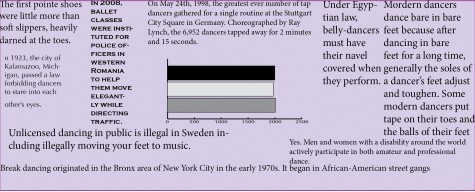 Blue Valley's dance team has a low budget and some dancers wishes that it was a bit higher.
Freshman Hannah Patterson said the budget needs to be higher because the dancers need more uniforms, and it isn't always convenient to do fundraising.
The dancers practice every weekday morning at 7 a.m. except Thursdays Senior Audrey Holland said "I dance every single day but i will have 2 hour practice here and then i would go to my studio for 5 hours." Holland had been dancing for about 14 or 15 years, and does 25 hours a week at her dance studio plus the hours for the school dance team.
Every dancer has an opinion of what dance means to them,
Hannah Patterson said " What dance means to me is that you're allowed to express yourself without being judged but you're able to do it without anyone doing it for you. It means that you are truly  free in a way. They can't control your own feelings that you put in your dancing."
Holland said many of the dancers have a connection with coach Katie Burris. Holland said "Definitely she is very open I can talk to her if I have a problem, she is always available to talk to. she gets it cause she is from the dance world like us."
Patterson said "That you're able to express yourself is cool. It's cool to prove people wrong that dancers are weak. Dancers have a strong personality and like to express a lot of art into their dancing. It is cool to express yourself and show people what you are capable of without telling words."