Fresh Meat on the Field
New group of underclassmen take on challenges of playing varsity soccer
Different. New. Unfamiliar. Change. All are words to describe the 2015 varsity soccer season. The reason for this: a large group of underclassmen joining the team.
Sophomore Kyle Ruder is new to the varsity team this year. Ruder played junior varsity last year as a freshman.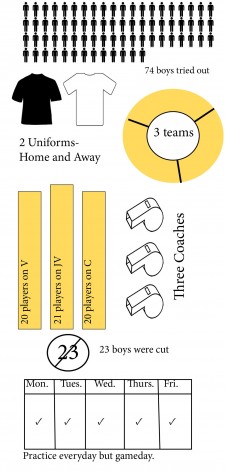 "It doesn't feel any different — they're just stronger and more mature and bigger." Ruder said. "Otherwise the skill level is all the same, or close to the same at least."
The boys are still learning how to work together as a team. The current record is 1-10 as of Oct. 1.
"I think it will be a year that we will be rebuilding, and then the next two years will be better because our team is young." Ruder said.
Sophomore Brett Holland agreed.
"This is definitely a rebuilding year." Holland said.  "We are looking forward to State in 2018 though."
One cause for the shaky start could be the team's "connection," Ruder and Holland said.
"I'd say some people have [a good connection] with other people, but not as a whole collective team." Ruder said. "Our sophomore class is good."
While speaking about trust, Holland said there are a few teammates he can trust, but not all. He said that while on the field he can play the ball to some of his teammates and trust that they will do well, but not with the others.
The team is looking toward improvement and a closer atmosphere as the rest of the season continues.
"Hopefully we will be able to come together and become more successful." Ruder said. "It's not so much about winning, but more about improving."