BVHS Freshman Football
The football season at Blue Valley has begun.
Freshman Josh Harrington said he thinks the A-Team is going to be fantastic.
"We have a good chance of going undefeated" Hosea Berryhill said.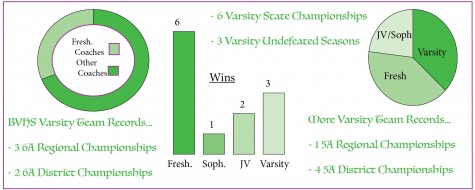 Josh Harrington said he believes both freshman teams will easily finish with a winning record.
Harington is a tight end and punter for the freshman B-Team.  His main goal was simple — "going undefeated and having fun out there."
There has been some challenges early in the season that the athletes have had to overcome though.
Harrington said his biggest challenge so far was learning a new position.
"I started at wide receiver this year," he said. "Then I switched to tight end."
Freshman Hosea Berryhill said the BV football coaches
are some of the coolest on the planet.
Harrington agrees.  "The coaches — they're all awesome," Harrington said. "And if we mess up they tell us what to do and how to fix it."
Both Harrington and Berryhill said they believe both freshman teams have a decent shot at an undefeated season.
Berryhill's goal was also pretty simple.  "I just want to walk out with wins" Berryhill said.
"We'll get more reps, and we'll know what we're doing so we don't make mistakes on the football field and we can win some games" Harrington said.