Dive team benefits from previous cheerleading, gymnastic experience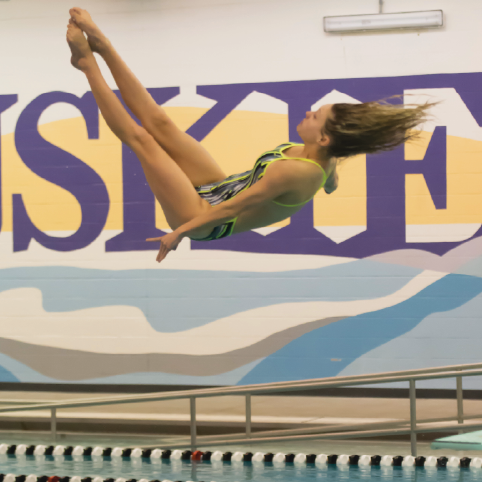 Flipping and twisting in midair before landing with barely a splash in the water sounds daunting to anyone unfamiliar with diving. That said, those with gymnastic and cheerleading backgrounds usually have a leg up on the competition.
Junior Abby Loudenback has just that. She was a gymnast for 10 years and on the Blue Valley cheer team for two years before joining the dive team.
"I had done gymnastics in the past and thought dive would be something fun to try," she said.  "My gymnastics background was really helpful. Already being able to flip and tumble helped more than anything. Gymnastics helped with cheer, which in turn helped with dive. They all have similar base skills."
Dive coach Bridget Allen coaches both the Blue Valley and the BV Northwest teams, so the divers split their time practicing between at both schools.
"Every other week after school, we have practice at BV," Loudenback said. "The other week is at Northwest, and then on Thursdays we have practice in the morning."
Although she said getting to know the girls from BV Northwest is fun, it makes it harder to get better as a diver.
"We don't get in as much practice time because there are so many people," she said. "It makes us not able to improve our dives or try new things."
Loudenback said the casual atmosphere differentiates dive from other sports.
"I like being with my friends at practice," she said. "It's really laid back and not as competitive or stressful as cheer."