A fresh start
Blue Valley Varsity Volleyball looks forward to season with help of 3 players
Blue Valley Varsity Volleyball is back and ready to take on their goals this season with the addition of three freshman players to the squad.
Two of the three freshmen, Lindsay Lahr and Evelyn Diederich were excited when they made the team.
"I was very nervous going into it, but relieved when I found out that I made it," Lahr said.
Diederich sounded excited too, but voiced her reaction differently.
"I was really proud of myself because I worked hard all summer. I was at all the workouts, and I put in a lot of time," Diederich said.
Lahr, who plays right side, and Diederich, who is an outside hitter, have the same goals for the team this season in mind.
"We want to go to State, and we want to win State; and we want to have a great season." Diederich said.
Lahr agreed with Diederich and described the first few matches played with the team that now has a record of 4-4.
"Well the first game we played St. James; that was a mess. And then the second two [games] we played amazingly, and then won those two," Lahr said.
To avoid the losses, BV volleyball is coming together as one with the help of their coach, Dave Johnson.
Diederich said, "He's a very interesting and energetic guy. He's really fun [and] he's a great coach to have because he's friends with all of his athletes, and is good on and off the court,"
Lahr and Diederich both acknowledged that the team is putting in hard work at practices to fulfill their goals.
"Practices are a lot of fun but still very intense," Lahr said.
Diederich also said the same about workouts.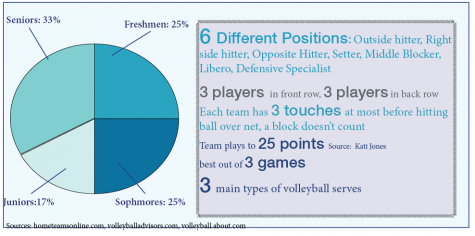 "Workouts are getting harder, I feel like," Diederich said.
Lahr explains the major team bonding happening too, especially for the freshmen, who are looking forward to the rest of the season.
"It's [the team's] a lot of fun. We go to Quik Trip every single day. [I'm looking forward to] just playing with fun, new people," Lahr said.