New Team, New Goals
Girls golf team shares about upcoming season
Returning Varsity sophomores Lauren Wood and Macy Erickson were both introduced to golf at a young age.
"I have been playing since I was a kid," Erickson said. "My dad was the one who got me to play."
In between missing multiple days of classes a week, practicing and keeping up with school, the Varsity girls golf team balances a lot on their plate as they begin the season.
Wood said there are obvious dfferences
from last year's core team and this year's. "Our team isn't as connected," Wood said.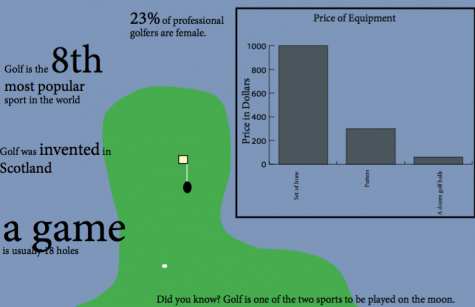 "We don't really work as a team. [We work] like individuals and we lost some of our main talent from last year."
Despite this, Wood said the varsity squad is working hard at practices every day except Friday until about 6pm in order to prepare to get the big wins at tournaments. Wood said missing this much school is a constant struggle to keep up with but said it is doable with time management and planning.
"You have to know when your tournament is
and then go in and talk to your teacher," she said. "It's about communication.
Tiger Paws is really helpful for us because we can go in and ask questions or take test that we miss."
Both girls shared their biggest goals for this season, whether it was personal or for the team.
"I really want to win State because it's at my home course, so I'll have a good advantage," Wood said. "If I put in the work, I can do it."
For Erickson, she said her main goal was "to improve my score to help the team be more successful as a whole."