Football vs Aquinas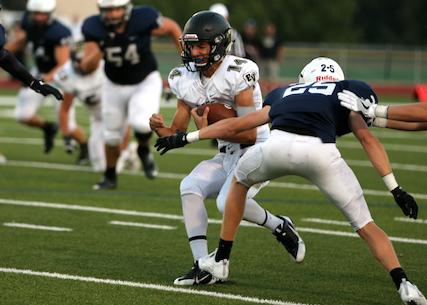 Last Friday, the Blue Valley football team defeated St. Thomas Aquinas 45-34 to finish off their undefeated regular season as EKL champions.
The Tigers' offense got started quickly with an 80-yard touchdown pass to Cade Green on the first play of the game to put the Tigers up 7-0 eight seconds into the game.
At halftime the Tigers led the Saints 38-14.
The Aquinas offense came alive in the second half, cutting the deficit to 10 points with eight minutes left. However, the Tiger defence came back with an interception and return to the 9 yard line, setting up a 9 yard touchdown run to put the tigers up 45-28.
Aquinas would go on to score one more touchdown, but miss the extra point.
The Tigers enter the postseason as the top seed in eastern Kansas, and will host every postseason game at home until the State championship game.
Next week the Tigers face off against Shawnee Mission South in their first postseason game. Its win-or-go-home, so everyone needs to show up to support the Tigers on their quest to finish off their "Unfinished Business."