Running Across Culture
Exchange student competes on varsity cross country team, provides new perspective about life in Kansas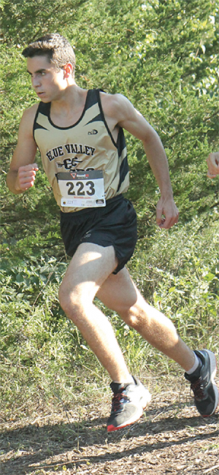 Blue Valley hosts exchange students from all over the world. Some of these students decide to participate in a school activity or sport. Of those who decide to participate in a sport, even less compete at the varsity level, mostly because they're competing with athletes who have been training with BV since their freshman year.
However, exchange student senior Saúl Egido, who's from a small town in northern Spain, arrived in Kansas City on Aug. 3 and began training with the varsity cross country team within a week of his arrival.
"Over the summer, we got him to come out to a few cross country runs," said cross country captain senior Adam Owens. "When he kept up with the rest of the varsity guys, I realized just how much we needed him."
At that point in the summer, Egido said he was deciding between two sports.
"The first week that I spent here in Kansas City, I was going to train with the cross country team," Egido said. "I was [also] trying out for soccer. I love soccer, but I'm very good at running. I decided to join cross country because it was better for my schedule."
In Spain, Egido said he was very active and participated in many sports. He said the training is not as intense in Spain compared to the United States — there was not as much competition, and it wasn't as serious. However, he trained in the mountains, which he said helped him when he came to the low-altitude of Kansas.
"When I was in Spain, I played a lot of sports, especially soccer with my friends, swimming and then cross country, too," Egido said. "Because of the swimming and the running I did in Spain, I think I'm a better runner here."
Owens said Egido has helped the varsity team experience a new type of culture, gain a new viewpoint on life in Kansas and become more aware of the different types of people there are in the world.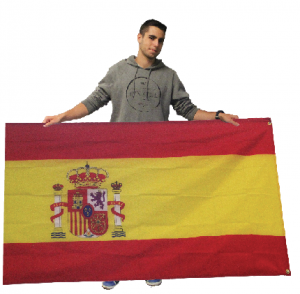 "He brings a different perspective compared to here because he's used to Spanish culture rather than Kansas [culture]," Owens said. "It's a lot different than accepting a new [freshman] runner. It's instead accepting a foreigner onto the team and getting to know somebody with way different values than a lot of people you might meet. He's a really fun guy to be around and he encouraged me to push myself harder in practice along with the rest of the varsity runners."
Egido said aside from the competition, cross country has also helped him to fit in at BV.
"I met people at the cross country team before coming the first day of school, so when I came here first day I already knew some people," Egido said. "The people are very nice. Everyone [in] every sport is very nice."