Pursuing Athletics
Current, former student reflect on playing college sports
BV Senior Daniel Hegarty
Senior Daniel Hegarty said he's loved baseball since the day he picked up a bat, so it was natural to try to continue playing in college.
Hegarty has verbally committed to play baseball at the University of Kansas next year. Although he's guaranteed a spot on the 35-man roster, most baseball players — Hegarty included — are officially considered preferred walk-ons  even though they were recruited, due to a lack of available scholarships.
"It's a funky process for scholarships for baseball because of Title IX," Hegarty said. "[There are] 35 roster spots and only 11.7 scholarships, so it's very hard to get a scholarship. Many preferred Walk-Ons [are] given a shot to earn scholarship money later in their career. I did get my meal plan for free, though, so that's a $5,000 value each year."
Baseball coach Tony Scardino said Hegarty's work ethic helped him find a spot on Blue Valley's varsity team.
"Daniel works really hard," Scardino said. "Ever since he's been in the program, he's been a team guy who worked his way through [the BV baseball system.] He's a huge component of our pitching staff. Next year, he's our number-one guy. Physically, he's grown into his body in the last year. He's gained a lot of upper body strength."
Playing at KU has always been a dream of his, Hegarty said.
"[As] a kid, I fell in love with the coaching staff and the campus," he said. "I like the business program and academic support at KU. Some colleges in Division-I [only] care about baseball and they don't really care about the education. At KU they really care about the education first and then playing baseball."
K-State Freshman Bridget Howard
K-State freshman Bridget Howard is a part of the school's brand new athletic team — women's soccer. Howard was a senior at Blue Valley and was on the varsity soccer team last year. She said the team is doing well so far and she is enjoying her time there.
"College soccer is definitely a bigger, faster and stronger game," Howard said. "I've learned how to adjust to that and become mentally tougher."
Howard plays outside forward, which means she is a part of the main attacking force of the team in front of the midfielders and closest to the opponent's goal.
"She was a constant scoring threat, having the ability to score from anywhere from 30 yards in," said K. Dean Snell, BV varsity soccer coach and Howard's former coach.
Playing a college sport is time-consuming — athletes go from practice to class to studying and then back to practice every day. They don't get very m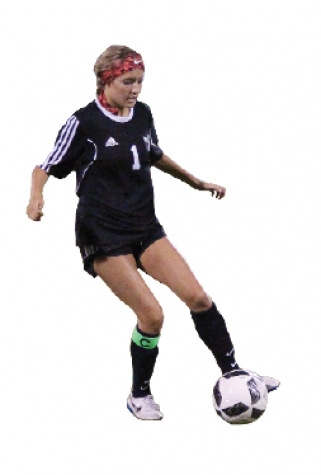 uch time off, she said.
"Soccer takes up all of my time," Howard said. "I wake up at 6 [a.m.] for weights, then go to practice for two hours, then go to class, eat dinner, go to study tables and then sleep. There's not much time for anything else, but I wouldn't trade it for the world."
Howard said being a part of the new team a learning experience.
"Like any first-year team, we are going to have our ups and downs," Howard said. "Overall it's been really fun and I love all the girls and coaches."
The team finished the season 4-9-3. Howard said she was very excited to see how the team came together.
"From the beginning of the season to now, we've definitely grown as a team," she said. "It's been exciting to see us come together after months of hard work and anticipation."