America's Fastest Growing Sport
Blue Valley's Lacrosse team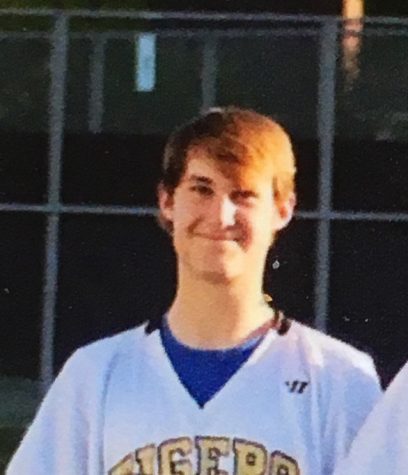 The fast past game of lacrosse has finally come to Blue Valley High School. Junior Brett Florack the varsity captain, talks about his experiences with lacrosse and how it progressing to become a big sport .   Florack the starting central midfielder for BV lacrosse, has been playing lacrosse for a while.He has been spreading the fun of the game to his friends along the way.
"I started in fourth grade. My dad's from New York, so he decided to get me to start playing lacrosse like he did since it was so prominent in New York",Florack said.
Lacrosse has recently became a big thing here at BV — Florack described it as a combination of the running in soccer but the hitting in football.
"It's like hockey in the air, but it's kind of got a mix of everything",Florack said.
The sudden interest in lacrosse has been on the rise, and you can see it in new places like stores and schools.    "Lacrosse is the fasting growing sport  in America — it is really taking off. You can go to a sporting good store 10 years ago [and] they wouldn't have had a lacrosse section, and now they have an entire section", Florack said.
Because of the versatility of Lacrosse you can see it helping you in other areas and other sports.
"Lacrosse helps your footwork", Florack said. "It helps with running and eye-hand coordination".
Lacrosse can be a very expensive sport and since they are a club sport it makes it hard for them to get equipment"We don't have a lot of school support because we are are a club sport, so everything we need comes from our own pockets and lacrosse is an expensive sport", Florack said. Florack is always looking  to get better and to figure out how to improve his game."I have been working out in the off-season staying in shape by playing other sports and I also have
been practicing a lot on my technique", Florack said. Coby Blasen, a fellow teammate describes how Florack spread the interest of the game to his friends. "I have been friends with Brett since sixth grade and ever since I knew him he was always talking about how much fun it was — that's why I decide to play because he couldn't stop talking about all the fun he had at tournaments and games,Blasen said. Brett said he is really excited to start the new season with some returning players and some new players. "I feel we are  going to be really good. Last year, we were all sophomores and this year we will be older and we have greater numbers we have like 40 players", Florack said. Blasen said he has been amazed on how becoming a captain has changed Brett for the better."He is amazing to watch out on the field he really takes control on the field and he is always trying to improve his game. I can't wait to see what he will do this season",Blasen said.