Color Girl
Freshman goes into the world of color guard
Students get nervous before the home football games at the Blue Valley Stadium.
These students are not part of the Blue Valley football team, but the Color Guard.
They perform before and during halftime of the football games. Freshman Brooke Rupp is a part of the BV Color Guard.
Rupp had never heard of color guard before this year.
"I have never done anything related to color guard, Rupp said. I have never taken a dance class, a gymnastics class and there's not really any color guard classes."
Freshman Rebecca Bryant only joined color guard because Rupp asked her to."Brooke didn't want to be alone. She wanted to know someone, but now I feel really good when performing. It's lots of fun" Bryant said.
Color Guard practices before the school year starts for the last three weeks and sometimes the practices are hard, according to Rupp.
"Over the summer we practice twice a day during the last two weeks. We practice on Monday, Wednesdays and Fridays from 7 a.m to the end of first hour,  on Tuesdays we do the same and then again at night from 6pm 9pm. On Thursdays it's only from 6pm to 9pm. On Saturday's till our first competition we practiced from 6pm to 9pm. Some practices are enjoyable, but some practices are harder and more stressful than others. I have a lot of band friends, which I personally believe make the practices more enjoyable." Rupp said.
Color guard had done some competitions so far in the school year.
"We're doing really well this season, at our last competition at Blue Springs South High School, we made first in finals," Rupp said.
Before the performance, Rupp feels nervous.
"Obviously, I'm usually nervous before we start but once we start performing I don't feel nervous at all. Since we do so many repetitions of every routine we have before each performance, it's pure muscle memory," Rupp said.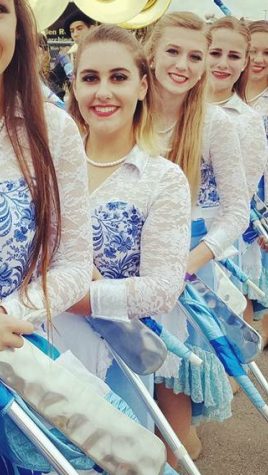 Bryant agrees with Rupp.
"I'm nervous in the beginning, but then I feel fine. It's just another run at rehearsal," Bryant said.
"We're doing really well this competition at Blue Springs South High School, we made finals" Rupp believes that the competitions are fun and supportive.
"It's a lot of fun it's nice to have all that practice time and hard work to be acknowledged by people who understand how much work actually does go into it Rupp said. [The competition is] actually very supportive — it's not like most competitive sports where everyone is sizing up each other or staying in their own little school packs. Many schools will wish you luck on your way to warm up or perform.
Color guard has helped Rupp with transitioning into the high school.
"I went to a non-feeder school. With color guard, the whole guard becomes your friends, so you don't go into high school knowing no one at all," Rupp said.