An Ode to BV Football
True champions are not dictated by one game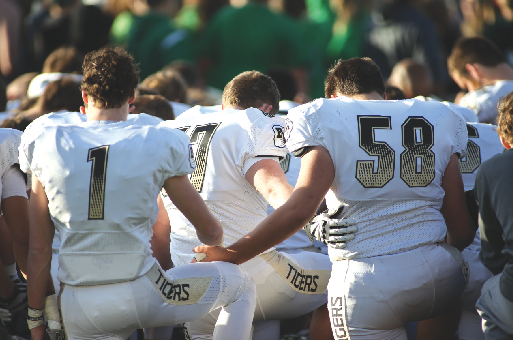 In November 2015, Blue Valley lost to Derby in the Kansas 6A football State championship game, finishing with a season record of 10-3.
Now, a year later, with their motto "Unfinished Business" ringing in their ears, our Tigers fell yet again in another heartbreaking loss to Derby, 17-14.
This loss hurts so much.
The seniors poured all they had into leading the team and leading well. Every player on the roster worked incredibly hard day-in and day-out, continuously pushing toward that State championship, a shot at revenge.
They persevered through seemingly endless hours of film sessions, weights, months of off-season training, two-a-days, three-a-days, countless gassers and those horrible, exhausting practices when they felt as if they had nothing left in them but kept fighting.
They will remember the locker room pep talks, the pre-game pump-up sessions, team meals, inside jokes, early mornings and the hot, humid days together on the field. They will remember the pulsing adrenaline and the shaky nerves before running out on the turf, sprinting through huge paper banners toward their crowd roaring for them.
Everything that made this season special is over.
This State championship loss hurt, and for the thousands of students and fans staring with blank faces as we watched Derby take the lead by a field goal with 27 seconds left in the game, we were heartbroken.
Sitting down as we watched the clock hit 0:00, many were stunned, and some cried.
We could not believe that after a perfect season, the single flaw would be in the championship game.
As devastated as we felt, we have no idea and cannot even imagine what a loss like that felt like from the players' perspective.
To our BV football team:
Thank you for this season. Going into the State championship with an undefeated regular season record — which has only happened four times in BV school history — is an incredible feat. 12-1 is an amazing run.
You fought so hard this entire year, won some incredible games and created a truly one-of-a-kind atmosphere for the fans and for the school.
You gave us something worth cheering so loudly for.
Led by our awesome senior superfans, our school followed you wherever you played, whether it was at Mill Valley, BV Northwest, our own home stadium or in Emporia, Kansas. Yelling, screaming, roaring with pride for our school and our football team — it was because of you that we experienced such Friday-night excitement.
We, as your fans, are so proud of every person on the team.
Because although one singular game dictates a State title, the way you held yourselves to a high standard, the way you played with integrity and class and the fiery passion you all fought so hard which makes this team a group of champions.
We will always cheer for BV. You have continued a football powerhouse legacy, and this season, you made it your own.
Although we have no idea what that State loss felt like to you, we are proud. Any other opponent you beat this year — Aquinas, BV North or Shawnee Mission East — would love to be able to say they made it to the State championship two years in a row.
Just as coach Eric Driskell said, "Hats off to our kids. They played tremendously hard. They have nothing to hang their heads about, and I'm proud of them."
We are too.
Your leadership, class and passion was continually represented. You are champions and will continue to be in whatever you pursue in life.
Thank you again, BV football, for everything you did. You have so much to be proud of.
Our school and our senior class will never forget this incredible team and incredible season.