Cheerleaders train for upcoming nationwide competition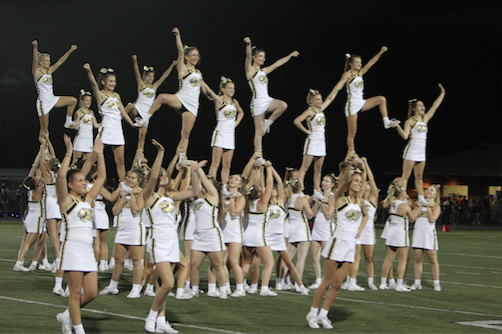 This year, Blue Valley High School cheer will be going to the National Cheerleaders Association (NCA), a competition where high school cheer teams compete from around the United States, for the second year in a row.
Cheer coach Michelle Wirt and senior captain Alex Vasa said they anticipate a strong and successful NCA competition for the team.
"It takes about a year of preparation," Wirt said. "We started working on a routine and stunts right after tryouts in May. Then, we got our choreography in August and then we'll leave to compete on January 21st."
Vasa said a lot of work goes into NCA by all the cheerleaders and the coaches.
"It's a lot of training," Vasa said. "We have the class every day which is the hour-long period — then we have practices on certain days of the week as well as Saturdays. We started creating the routine in August, and the competition isn't until January so we still have a lot of work and preparation to do."
Last year was the team's first year ever attending NCA.
"I think the team will be a lot stronger this year," Wirt said. "For us only having a two week preparation time and placing fourth [last year], I think we really have a good shot of winning this year. I think we have a good chance of being national champions."
Vasa said high schools from all around the United States compete at NCA and there are many difficult things about the competition.
"The hardest part is that it's only around a three minute cheer so it's such a short period of time to perform and show everything you've worked really hard on and are capable of doing as a team," Vasa said.
Traveling with the team and getting to enjoy each other's company outside of BV makes the experience really fun, Vasa said.
"My favorite thing is that it's a big team bonding thing and we all get to have a lot of fun together," she said. "It's so amazing to show everyone what we have been working so hard for as a team."
Being a senior captain, Vasa said the position comes with a good deal of responsibility.
"I have to be a leader on the team," she said. "I have to not only help with Varsity but with JV and freshmen too, so it involves getting everyone ready for games, being a leader at practices and making sure everyone is on task at all times."
Coach Wirt said she is excited to see her team there competing against hundreds of other high school cheer teams nationwide.
"I like seeing all the different high schools from all over the United States," Wirt said. "Knowing that we are just as good as anybody else is pretty exciting for us and myself as a coach."