Winter Sports
Wrestling seeks to continue success from last year, avenge shortcomings
Sophomore wrestler Alex Totta said he began training for the wrestling season in the summer.
"I'm looking forward to State and going back," Totta said. "I wasn't happy with how I ended up [at State] last year."
Totta said the team exceeded their expectations.
"At the State tournament, we placed higher [as a team] than we thought we were going to," he said. "We had a lot of guys place [individually], so we were happy about that."
BV had three seniors place at the State tournament, including a State champion and runner-up.
Totta said the team lacks upperclassmen this year, which may require younger wrestlers to assume leadership roles.
"I'm only a sophomore, but we don't have many upperclassmen this year," he said. "I might have to step up [and be a leader]."
He said his favorite part isn't the competition, but the family atmosphere.
"[I like] sitting at the tournaments waiting to wrestle, and getting to bond with all of your teammates," Totta said.
Girls bowling gives students an opportunity to have fun, get involved
The girls bowling team at Blue Valley was created by teacher Mark Mosier after the success of a bowling club at BV.
Senior Marissa Herzog said she joined the team as a junior for a fun way to get involved.
"I love [bowling]," she said. "It's something that everyone enjoys, and you don't have to be super good at it to do it."
Herzog said spending time with the girls makes the bowling season enjoyable.
"I'm just going to have fun and enjoy my senior year," she said. "Practice is always fun because we just get to hang out. I hope I do well, but I really just want to enjoy it."
Even though she was a first-year bowler, Herzog said she immediately became someone to look up to because of her age and the lack of other upperclassmen.
"I've only been on [the team] for two years, so I've always been an upperclassmen," she said. "Right from the start, I was one of the leaders of the team."
Because of the lack of older girls, Herzog said the team was not as successful as they hoped last season.
"[Last year] was a rebuilding time," she said. "We have a lot of younger kids — Kennedy [Miner] and I were the only upperclassmen on the team. [This year] we are trying to do a little bit better. We're one of the lower-[ranked] high schools so we're going to try to keep [improving]."
Boys basketball seniors look to make State for first time in high school careers
Last season, the boys basketball team went 14-6 but fell short of qualifying for State.
Senior Cade Green said they met their goals for the season but still were disappointed when they missed State.
"We had a good regular season," Green said. "We got a home Sub-state and that was our goal for the year [and] then lost that. It hurt us and motivates us for this year."
Green said his expectations for this season are higher than last year.
"We can be better than 14-6 and hopefully have a shot at the EKL title," he said. "We've always lost the first game of Substate since I've been on the team, and it would be really cool to get to State."
As Green has gotten older, he has also taken up more of a leadership role on the team, he said.
"I remember my sophomore year playing varsity — I was kind of scared to step up and say stuff to the other players," Green said. "Last year was fun playing with Tyler [Geiman] and Gus [Gomez] as guards. This year we're all seniors now so it's our turn [to be leaders]."
Green said he's excited to finally get to compete.
"I can't wait to play [more] games again," he said. "Playing in front of the band and our student section is always great."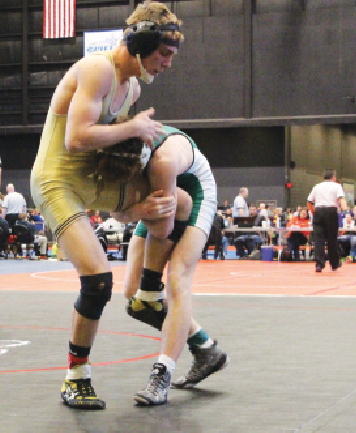 Sophomore Alex Totta competes at State last season. Totta was one of two freshman to wrestle at State last year. "It was exciting but also a little intimidating because these guys are 18 and more developed," Totta said. Photo by Molly Franko.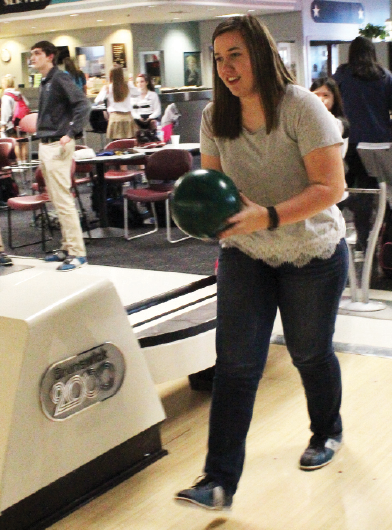 Getting ready to bowl, senior Marissa Herzog picks up the ball. This is Herzog's second year on the bowling team. "[I'm looking forward to] having fun with my friends who are also trying out," Herzog said. Photo by Alex Roberts.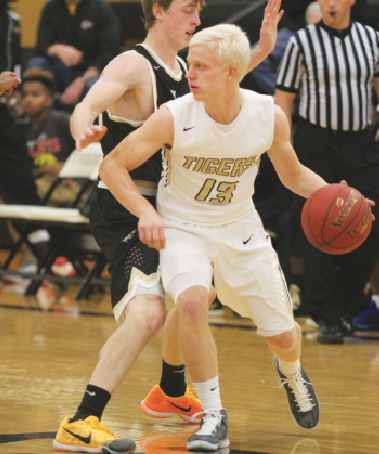 Senior Cade Green dribbles the ball. Green is one of five seniors on the team this season. "We're all kind of quiet leaders, except Harry," Green said. "Me, Tyler, Gus, and Will really don't yell loudly. We're just quiet and lead by [example]." Photo by Hanna Bradford.