Opening Day at the K
Royals to start season without star pitcher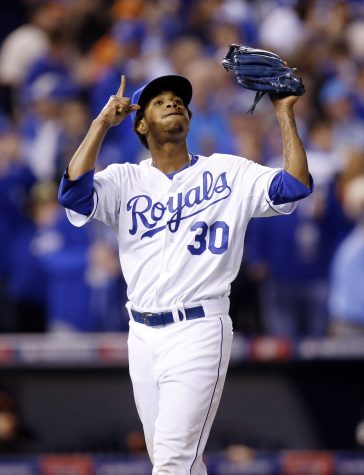 Home runs, base hits, hot dogs and sweaty fans. The traditions you've been waiting for are right around the corner for the Kansas City Royals.
While the excitement for the upcoming season is at an all-time high, there is one thing the fans must keep in mind — things will be different this year. You will notice the roster has some slight changes that were not planned.
On Jan. 22, we were forced to say our heart-wrenching goodbyes to someone that changed Royals baseball forever.
Pitcher Yordano Ventura was only 25 when his life and baseball career sadly came to an end. The news came as a surprise to everyone. To those following the world of Kansas City baseball, the shocking story couldn't have come at a more difficult time.
Spring training for the 2017 team started Feb. 25, and no doubt this loss is still a sensitive topic for Ventura's teammates. At this year's Royals FanFest, it became very clear that the fans are struggling too. Many shed tears as they walked through the separate room dedicated to Ventura and the legacy he left behind.
FanFest was the first time everyone had to come together after the accident. Many of the current players were there to sign autographs for fans, but there was someone missing at the table.
In an interview with the Kansas City Star, Royals third baseman Mike Moustakas couldn't hold back tears when he was asked questions about Ventura and his passing.
"I just really couldn't believe that he's not here anymore," Moustakas said. "I got a text and I didn't think it was real."
In another interview with first baseman Eric Hosmer, he said the loss is hitting the players at different times.
"I know there's at least 20-25 guys I can call to talk me through it," Hosmer said. "It's something you don't really get over."
The new season for the Royals officially begins Monday, April 3, but they will play out of town for the first three games against the Minnesota Twins. Opening Day at the K isn't until April 10 against the Oakland Athletics.
As the new season approaches, the weeks leading up to Game-1 are agonizing. But as April 3 draws closer, fans should listen to the voices inside their heads telling them that something isn't right. There will be a sense of unsettling air here in Kansas City, as the loss of a true team player sinks in. Nothing is going to be the same without his presence on that field, but the team must move forward.
Rest in peace, Yordano Ventura.
Forever missed, Forever Royal.