Varsity Baseball Continues Winning Streak
Tigers win four straight after short losing streak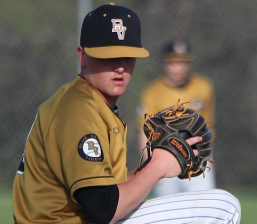 Yesterday, the Blue Valley varsity baseball team won 6-4 against Blue Valley Northwest. The win extends their winning streak to four games.
This year's varsity baseball team is currently 5-3, has already matched last year's team in losses and is currently in seventh place in the Eastern Kansas League. They are 2-2 in the EKL and are ranked nineteenth in the state.
After winning their first game of the season against Bishop Kelley (OK), BV lost three straight, including a 10-0 loss against Mill Valley. Thus far, Mill Valley has only lost once and the Jaguars are second in the EKL.
BV rebounded with a 12-1 win against Gardner-Edgerton and a 16-1 win against Shawnee Mission South. The Tigers started this week with a 7-1 win at Rockhurst and continued their streak yesterday at Blue Valley Northwest.
BV seeks to finish off this week with another win against BV Northwest. Northwest is currently 1-3-1 and eighth in the EKL. The Tigers play at 7 p.m. at the Blue Valley West fields.