No Off-Days
Freshman shares experience as varsity athlete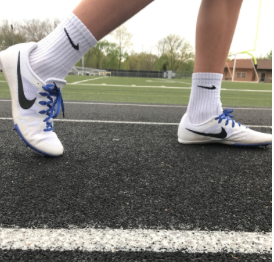 For many freshman students, adjusting to high school and it's ruthless schedule is hard enough. But for Evelyn Diederich, school is just one of the large priorities that she faces every day. Diederich made varsity track and varsity volleyball as a freshman, and participates in club volleyball year-round.
She said that trying to balance out her rigorous schedule is very difficult.
"It's really tough to be able to compete at my best level in both sports, and managing practices and balancing everything out is hard. I have at least one practice every weekday," she said.
Diederich said that she has always loved to compete, but found interest in track later on.
"I wanted to [start] competing [in track] in 7th grade and I've played sports ever since the beginning of elementary school," she said.
DIederich said she competes in several track events, two of which are running events.
"[I participate in] high jump, 4×200 [meter relay] and the 100 [meter dash]," she said. "I've always been a good runner and running track can help me for volleyball in the future."
Diederich said that she feels very accomplished and proud of herself.
"I worked really hard and it payed off," she said. "Competing varsity track is a pretty big accomplishment because I always want to compete at the highest level I can."