Spring Sports Briefs
Baseball pursues State tournament, attempts another postseason run
Last year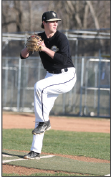 , the varsity baseball team broke the school record for wins in a season and made it to the State semifinals. Senior pitcher Brody Allen said this year the varsity team is looking to make another postseason run.
"Varsity went 21-3," Allen said. "They were the number-one seed going into the State tournament but ended up losing in the semifinals."
He said playing on all of the baseball teams should help him be able to lead younger players.
"I'm one of the few who's started on D team, C team, JV and varsity," Allen said. "I've worked my way up the ranks, so I could be a role model for the younger guys who may be in a similar situation that I'm in a couple years down the road."
Allen played on the JV team in 2016, which went 16-2 and won the EKL tournament at the end of the year. This is Allen's first year on any varsity team at Blue Valley, and he said he wants to enjoy his time on the team.
"I'm looking to go out and enjoy every time I get to play," Allen said. "I look forward to playing in the cool games we have this season like Shawnee Mission East, Jefferson City and playing at the K."
Softball team provides players with lasting relationships
Sophomore Paige Robbins is an outfielder on the softball team. She has played on varsity the last two years. She said she enjoys playing softball while showing others the pride she has for BV.
"My favorite thing about playing school softball is getting to represent my school while doing something I love," she said.
Robbins said playing on the varsity team gives her the opportunity to improve by learning from the upperclassmen.
"School softball makes me better by getting to learn things from kids who are older and have more experience than me," she said.
Even though the team consists of players from different grade levels, Robbins said the relationships are the main reason she loves playing BV softball.
"My favorite thing about the team is how we are all friends and how we have so much fun together."
Boys Golf seeks second straight Regionals victory, hopes to build off last year's successes
Golf co-captain senior Nick Beardslee said the golf team ha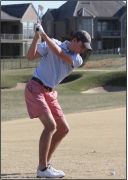 d a successful season in 2016.
"We actually finished pretty good for us," Beardslee said. "[Alumnus] Griffin Mott led the team really nicely, and we got about six to State, and we won Regionals."
This year, he said, they have similar expectations.
"Our main goal is to win Regionals," Beardslee said. "Once we get to State, [we hope to] place in the top 10 or 15."
Beardslee is one of two captains, along with senior Kale Samber. Beardslee said his leadership role has changed since becoming a senior.
"I have played varsity all four years," Beardslee said. "This year I'm actually more of a leader because I'm a senior and get to lead the team instead of just being led by other seniors."
The golf team plays nine holes of golf every day, but Beardslee said he enjoys participating.
"It's not tense or anything," Beardslee said. "It's just a relaxing game and a fun sport to play."
Girls soccer team builds new friendships, provides positive atmosphere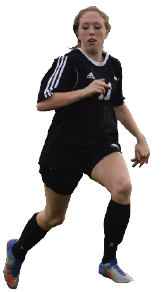 Varsity starter junior Madalynn Gill is a forward on the soccer team. She said she enjoys seeing her improvements throughout the course of the season.
"Playing high school soccer makes me better because it keeps me moving and practicing when I am not doing club," Gill said.
She said her favorite thing about playing for the high school team is the relationships she acquires during the season.
"My favorite thing about playing school soccer is getting to build so many friendships," Gill said.
Even though playing might get tough, Gill said she enjoys the team atmosphere on and off the field.
"[I love] how positive everyone is even if we lose and how much every person cares about each other throughout the season," Gill said.
Girls swim and dive team provides students challenges, opportunities to improve
Junior Grace Euler swims for the girls swim team. She said that swimming is not an easy sport to stay devoted to.
"Swim is a huge commitment," she said. "It teaches me how to persevere."
With having two practices a day, one at 5:30 in the morning and one after school, Euler said the team is really close.
"My favorite thing about s
wim is my team and how fun they are to be around," she said. "I'm truly blessed."
Euler said she enjoys reflecting on her progress over the course of the season.
"[I love] seeing my improvement from the beginning to the end of the season," she said.
Boys tennis brings students opportunities for fun experiences with friends
Senior Sid Hedge has been a captain on the boys tennis team since his junior year. He said his role on the team has changed since becoming a captain.
"My first two years I wasn't a big part of the team, but last year I was a captain so that was a pretty big role," he said.
Hegde said the team is training hard to prepare for meets.
"We practice every day after school," Hegde said. "We do extra conditioning more than we did last year."
He said last year the team had a successful season, and they hope to continue their success this year.
"Last year we had one doubles team qualify for State," Hegde said. "They ended up winning, so that was really good for us. We'll build off it this year. I think we should at least qualify one for State this year."
Hegde said he hopes to experience success this season, but he also enjoys getting to play the sport.
"It's an enjoyable sport to play with my friends," Hegde said. "I hope to play well, win most of my matches and keep everything competitive."