National Champions
The BV cheerleaders will return to Nationals as defending champs
Last year, Blue Valley cheer attended cheer Nationals for the first time and returned as champions. This winter, they'll be heading back to Dallas, Texas to compete once again.
Varsity cheerleader junior Carly Vandervort said they entered the competition as underdogs because "teams from all over the country came and competed." Not to mention, according to Vandervort, Texas is the cheer capital of America, putting even more pressure on the team.
The BV cheerleaders were the first team in Kansas history to get first place at cheer Nationals. Despite being against the odds, the cheerleaders made sure to work hard and practice often for Nationals.
"We would have practice at least twice a week regularly, and then the week of [Nationals] we had practice every single night." Vandervort said.
This didn't include the built in hour of practice every school day.
"[Practices for Nationals] are pretty hardcore (…) everything we do is for a reason." Varsity cheerleader junior Anna Shamblin said.
Performing on a national cheer mat isn't new for Shamblin, as she used to be a competitive cheerleader before she joined BV cheer. Shamblin said their performance that won first place at Nationals, however, was unlike one she'd every performed before.
"We felt so happy and empowered after [the performance]" Shamblin said, "and we just knew at that point that all of our hard work paid off."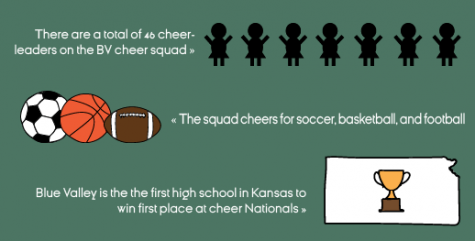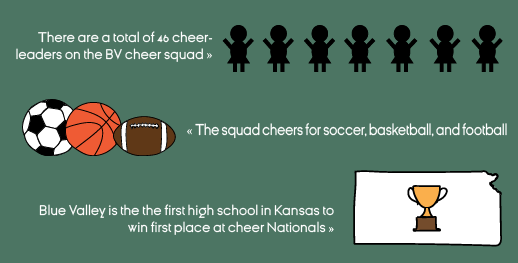 Not only did the BV cheerleaders get gratification and bragging rights by winning, they got physical rewards, too.
Vandervort said one of her favorite parts of winning Nationals was getting the first place jackets.
"We got these awesome jackets that only first place gets." Vandervort said.
With the memory of victory still fresh in their minds, the cheerleaders are currently practicing and
preparing for this year's National competition.
The cheerleaders are preparing in ways other than just late night practices.
"The school performances also help us prepare for Nationals." Shamblin said.
The BV cheerleaders are motivated and looking forward to going back to Nationals this year as returning champions.
"Our routine [this year] is really good and different, so it'll be fun to try and go back and win." Vandervort said.