Team Success
The girls golf team has had a very good season this year.
Although the golf season is almost over, current members encourage others to join the team next year and claim that no former experience is required to have a good time.
"I had played golf maybe a couple times with my dad, and I've gone to TopGolf but other than that, I've never taken formal lessons," sophomore junior varsity player Gabriela Ruiz said.
The team is a mix of eight players, all of different skill levels and grades, but that doesn't stop them from becoming a close group of friends.
"Because there are so few of us, it's more of a tight-knit team so we all know each other really well," sophomore junior varsity player Rachel Ma said.
According to Ma the coaches also help make the team a more welcoming and enjoyable place for all players.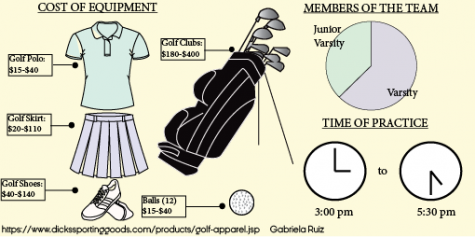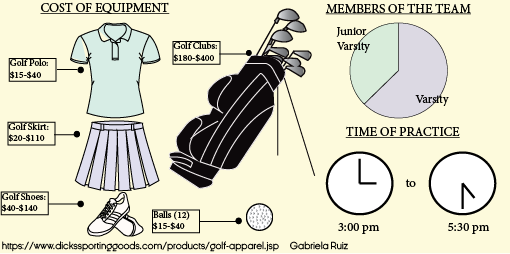 "The varsity coach is [Andy] Milikan and I think that he's really funny and he jokes around a lot and the junior varsity coach is [James] Laughlin. I really love Coach Laughlin — he's hilarious," Ma said.
Ruiz explains how the bond within the team can make even the most stressful situations more comfortable for the players.
"I was out for a week for De Quervain's Tenosynovitis, which is an overuse injury of your wrist. For that I was out for a week and missed two tournaments but I'm back now, and I'm finding it's pretty easy to catch up after that because everyone's really supportive and it's a good atmosphere," Ruiz said.
Practice starts after school until 5:30 p.m. every day from Monday to Thursday and tournaments occasionally pull players out of school which can sometimes make it hard to catch up on work. However, this year's players Ma and Ruiz have said that that won't stop them from joining the team again next year.
"It's been a lot of fun and I really like the coaches and everybody else who's on the team so I think I'll join again again next year and maybe go for varsity depending on how much I improve," Ruiz said.