Tigers Tackle Tailgating
Seniors break down preparation for hosting successful tailgate
Tiger tailgates are unlike any other, according to the seniors at Blue Valley. Tailgates usually precede Friday night Varsity football games beginning at 5 p.m., but not for tailgate expert senior Kyle Ruder. 
"People usually get there around 5," Ruder said. "But myself, [seniors] Alec Vobach and Drew Howard get there at 4:15 p.m. to 4:30 p.m."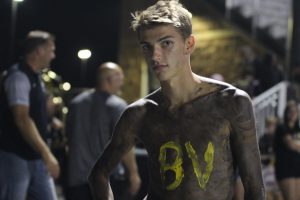 Another avid tailgater, senior Morgan Judy said everyone laughing, and having fun makes a tailgate successful.
Judy explains what fun activities occur at these tailgates.
"Everyone eats [and] listens to music. We play corn hole. We like to make it as fun as possible," Judy said. "We have people bring food, and we paint faces [and] bodies. We all pitch in and make it as fun as we can."
Ruder stressed the importance of keeping the tradition of tailgating alive.
"Since the seniors did it last year, we decided it would be fun before the game and have [an opportunity] to get together," Ruder said. "It's exciting to hang out before the game with no restrictions and just cheering all the time."
Judy agreed and said being with her classmates during the tailgates before the game hypes everybody up for the game itself.
"Relationships [are strengthened] with the people in your grade,"  Judy said. "You have the opportunity to interact with people you don't usually hang out with on a normal basis, and that's what I love."