A Commitment
Sophomore illustrates her dedication to swim
Being committed is an admirable quality for one to hold. A commitment can be described as the state or quality of being dedicated to a meaningful cause or activity. It can be shown in many ways such as sports, arts, literature and even work. Commitment can be whatever one is dedicated to and puts a lot of work into.
Sophomore Lucy Behm devotion to swimming is a perfect example of commitment. Behm is a 15-year-old sophomore at Blue Valley High School; she is an honor student with excellent grades and is dedicated to swimming for the Kansas City Blazers.
"I have been swimming for eight years, since I was 7 years old." Behm said.
Swim is an intense support that requires a lot of practice to keep up with and not fall behind. She swims six days a week and 50 weeks out of the year, with only Sundays off.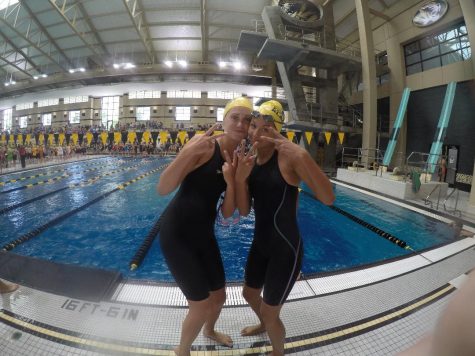 "I have morning practice Monday, Wednesday and Friday 5:00 am to 6:30 am. I have afternoon practice Monday through Friday 4:00 p.m. to 7:00 p.m. I also have practice on Saturdays 7:00 a.m. to 10:15 a.m." Behm said.
During practice, she does more than just swim. Behm and her teammates participate in weight training, running and yoga. Behm has to stay extremely fit and eat very healthy to keep up with all of this exercise.
"Swimming takes up most of my free time, so it's really important that I keep up with my homework and study whenever I get the chance. School will always be first." Behm explained.
Behm is enrolled in three honors classes. In addition to her other classes, this requires a significant amount of studying to keep up her grades. Behm says that when doing her homework, she has to keep on task and work very efficiently to achieve a good outcome.
Student, Molly Levinson, who also is enrolled in the same honors classes as Behm, said "Lucy always gets such good grades, better than most students. She should be really proud of herself for keeping up with her education and dedication to swim."
For many high school students, an active social life is very important and something a lot of students enjoy.
"When ever my friend group and I go do something fun on the weekend like dinner or a movie, Lucy usually can't come because of her swim schedule." said Levinson.
However, for Behm, keeping up with friends can be difficult to maintain.
"Swimming makes it hard for me to have a social life, I miss out on a lot with my school friends.' Behm said. 'I have become close with my swim friends, some of them are my best friends which makes swim enjoyable."
All of her practices pay off at the multiple competitions she participates in. She competes in numerous events in roughly 24 competitions throughout the year.
"I have traveled a lot of places for swim. Los Angeles, Nashville, Texas, Mississippi, Indiana and Oklahoma are a few places I have traveled for swim." Behm said.
Behm and her team have won many competitions including one national level meet. As an individual, Lucy has won one State championship and she has earned sixth in seven State meets.
"My personal best are in 200 back, 200 breast, 100 back, 100 breast and 400 IM." says Behm. 'My best and most proud swim is 2:11 in 200 back."
Behm has an extreme dedication to swim. She plans to pursue swim for as long as she can.
"I get asked a lot why I do this, why I practice so much every week,' Behm said. 'That's because I plan to swim at a D1 college after high school and pursue it until I can't anymore."
Swimming for Behm has become a major part of her life and without swim, Behm wouldn't be the same.
" Swim has made me into the person I am today. Without swim I would be totally different person today and wouldn't have qualities that shape me into the person I am today." said Behm.
Sophomore Lucy Behm, left, calebrates the win with a picture. Behm was competing at a state meet with her team and won her heat in 200 back. "I was so happy that I won after all my hard work and practice."  Behm said. | PHOTO BY MADELINE DALKE