Transferring Talent
Is it justifiable for student-athletes to pick their high school based on their athletic career, and is our district doing anything to prevent these incidents?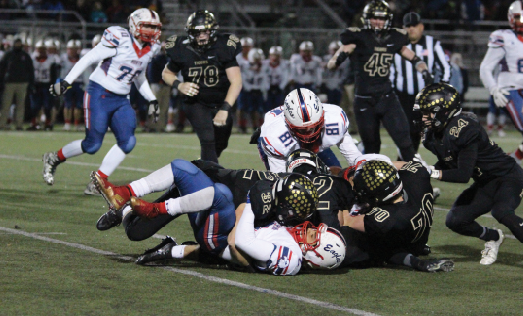 The Blue Valley School District is considering revising its transfer policy to prevent students from transferring from middle school to a high school out of their home's boundary which caters the best to their athletic interests. The need for such changes were conceived from recent incidents regarding transfers — such as with a recent group of freshmen at BV who switched high schools and now play for the BV football program. Parents expressed their dissatisfaction with the current guidelines to the district, who said they are complying fully with KSHSAA guidelines but want to do more to prevent future incidents. The district said this situation is not unique to BV — every high school has their own athletic programs which attract student-athletes from all over.
From District Office
Blue Valley School District's Director of School Administration and District Athletic Director Lane Green went to each high school in the district to talk to many discontent parents who were upset because they believe the district policy allows for kids to transfer to whichever school has the best sports program for their student.
In the meeting at BV North on Oct. 18, parents discussed a specific example with the BV freshman football program, in which they believe students are leaving other high schools in the district to go to BV and play for a superior program.
Green said problems like this occur when a particular program is especially successful. He said all districts in the state subscribe to the Kansas State High School Activities Association (KSHSAA) rules. He said the rule governing transfer kids for athletically motivated reasons — Rule 18 — is the longest and most complex rule in the handbook by far.
"Once you go to class for the first day of your freshman year, you establish that school as your high school," Green said. "If you transfer after that, you [can't play sports] for 18 weeks."
Green said it is difficult to regulate kids transferring from eighth grade to ninth grade because it is impossible to prove a student's intent for transferring.
"They really don't have any rules about selecting your initial high school based on athletic-motivated reasons," Green said. "They discourage it."
Green said all eighth graders get a "free pass" because many students go to different high schools — public or private — for an array of reasons. He said the allegations at BV are not serious and no hard evidence of any rule breaking has been presented.
"Whenever you have a successful program, people are going to find things to point their finger at," Green said. "It's just what comes with being successful."
With accusations regarding the transferring of the freshman football situation, he said there has been nothing more than informal accusations, and the situation is nothing more than students who transferred high schools who happened to play football.
"We've seen it before and it happens in all districts," Green said. "I've been at [the] Shawnee Mission [School District], I've been in this job in Olathe, and it happened there, too. Whenever you get certain athletes, maybe more than usual, transferring to a school and that school happens to be highly successful in that sport, you're going to get some finger pointing in that situation."
Green said if a student ever requests to transfer, and said it is for athletic or activity-related reasons the application will be rejected, but if there is ever a student who wants to move for reasons that aren't allowed, the parents usually give a pretext to get approved. He said scenarios like this are part of the reason they are reviewing the transfer rules.
"For the last couple years, we have been starting to talk about our transfer guidelines in our district," Green said. "We have found, over the years we've gotten maybe a little away from that policy. We're looking to see if we need to button things up a little bit, not just for the athletic reason, but for many reasons — staffing, school sizes, making sure a school doesn't get too full."
He said the meetings were scheduled long before the freshman football team at BV was an issue — it just happened to surface at the same time as the meetings.
Green said the freshman football situation doesn't need resolving because of the frequency of events like this all over the district.
He said the transfer process is extremely easy and they are looking into how to tighten up some of the transfer restrictions. Green said although there are a few problems that come from lax transfer policies, there are many benefits from transfer students — who make up 10 percent of the school district.
"We recognize sometimes transfers are a really good thing, and we've seen a lot of examples where it's really helped somebody out to get a fresh start," Green said. "What we don't want to do is be violating KSHSAA rules in having students transfer for athletic-motivated reasons or activity-motivated reasons. It's just one of those things we're trying to coin up and make sure it's not happening, but this falls in the category of easier said than done."
From The Field
Chase Jans is a freshman at BV who plays for the football team. Although he goes to BV, he attended a middle school in the BV Northwest feeder system. He plays running back and cornerback for the Freshman-A football team as well as the Sophomore team.
Jans said changing high schools after middle school was an easy process, and he hasn't had a difficult time fitting in at BV and he has no regrets about his decision to transfer.
"I just had to fill out a little bit of paperwork about why I wanted to come," Jans said. "I knew people before I came, but not a lot of people. It's just a lot better here [at BV]."
Jans said he never intended to attend BV Northwest, and his final decision came down to either BV, St. Thomas Aquinas or Bishop Miege. He said he chose BV despite being offered scholarships from the private schools.
"I was always not going to go to Northwest," Jans said. "[Private schools were] talking [to me] like, 'We'll pay you to come here scholarship-wise.' We were still going to have to pay a little bit [of tuition]."
Jans said he is aware some people are upset he, along with some other freshmen, transferred to BV, but he said it doesn't affect him.
"I've been hearing about that," Jans said. "I've been hearing about it a lot from my old teammates and coaches from other schools, they're upset, but it made me want to beat them worse. We beat them 50-0."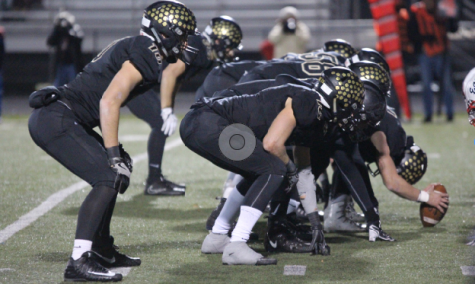 What is Recruiting?
"Recruiting is basically any agent of a school trying to get a kid to go to that school for athletic motivated reasons," Green said. "An agent of the school can be the coach, the principal, the athletic director, a parent in the program [or] it can even be one of the athletes in the program. KSHSAA basically says [recruiting happens] anytime you try to coerce a kid to go to another school other than their feeder pattern."
Green said he is aware on only one documented incident of a school trying to recruit a student-athlete. He said it occurred in 1981 in another school district, and the school was put on probation. He said there has never been anyone making any accusations toward the BV football program of doing anything remotely close to recruiting.
"The integrity of the BV football program is beyond reproach," Green said. "I have never once had one other coach, one other employee, one other anybody in this district ever even hint of any of our athletic programs doing anything in the area for recruiting."