Back to Back
Cheerleaders win national title for second straight year
In November, Blue Valley High School made history and won the first-ever KSHSAA Cheer State Championship, but their winnings wouldn't stop there. Last weekend the BV cheerleaders took home the National Cheer Association (NCA) National Title for the second year in a row.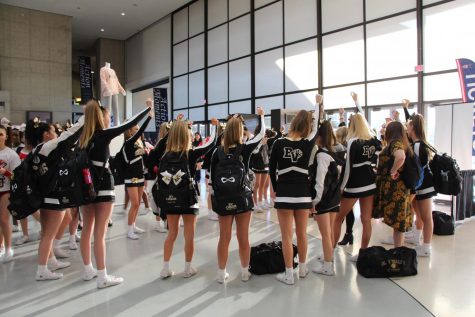 The squad worked on their winning routine for months in anticipation of their performance.
"We learned the routine in the summer and we've been working on it ever since," junior Sophie Bell said. "We work on it for months to prepare for that one performance."
This year the team put a large focus on working hard at practice to give the cheerleaders confidence in the routine.
"Our practices were more productive and we were more ready all-around," Bell said. "Even though we won last year, I think this year we felt better about it."
The upperclassmen cheerleaders stepped into a leadership role to guide the younger cheerleaders and develop a strong team bond.
"I was able to help the underclassmen know what to expect since I've been to NCA three times," junior Ally Rhea said. "We were able to talk to them and help them get rid of their nerves."
The competition was held in Dallas,TX Jan. 27 and 28. NCA consists of a performance on Saturday and the second performance on Sunday. The first performance is worth 25 percent of a team's score and the last performance is worth 75 percent.
"We felt confident in our routine," Rhea said, "The first day we had zero deductions, so that really helped our performance on Sunday."
In 2017, the team was the first Kansas high school cheer team to win the NCA title and history was made again with the repeat win.
"I was crying, I was just so happy," Rhea said. "It was just like last year. The feeling never goes away."