Preparing for Track
Junior sets goals for upcoming track and field season
When January comes to an end, It marks the start of track season for many students at Blue Valley. Junior Emily Hess is beginning her 2nd season this spring and says she is excited to get this season started. Hess runs the 100, 200 meter relays, as well as the 4 by 100 relay and triple jump. She says there is a lot of activities she does in order to put herself in the best position this season.
"I have been preparing since about winter break and I go to Hilltop and run on the track and the treadmill. I also do a weightlifting program, PSP3, that is built around you to make you stronger for your sport or position," Hess said. "I go to PSP every Tuesday and Thursday for an hour and I normally go to Hilltop every Monday and Wednesday."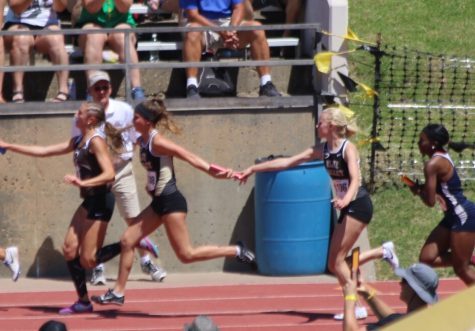 She said she has high hopes for a satisfying finish this season.
"I am expecting to improve my times and hopefully PR early on in the season for triple jump," she said. "My goal is to qualify for state again this year."
One of the BV track team's goal is to improve individually, team wise and possibly win EKL. Although competing is an important part of track, Hess says that the friends she's met through the sport is something that makes it so special.
"I'm most excited for just getting back to competing with my friends," she said. "I'm also excited for meets just because they're so fun and you get to cheer on your team."
Hess said that track season is an exciting part of the year.
"I really just like the competitive aspect of the sport and all of the friendships you make with a bunch of different people from different grades," she said. "The friendships you make really make the track experience so much better."