Wrestling The Stereotypes
Sole girl competes on predominantly male team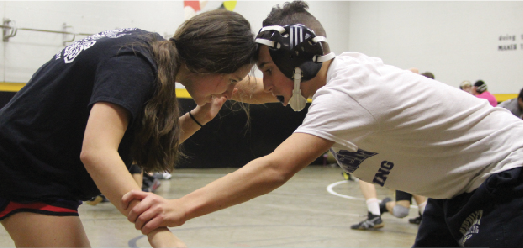 On the morning of a wrestling meet for Blue Valley, the entire wrestling team weighs in at the boys locker room to determine their weight class for the competition.
However, this season, after the boys clear out of the locker room, the coaches weigh in one final wrestler, one who isn't traditionally seen on a high school wrestling team: a girl wrestler, senior Megan Hatfield. Her decision to sign up for wrestling came from her trend of trying a different sport every year.
"Eighth grade, I did basketball, freshman year I did soccer, sophomore year I did track and junior year, I did softball," she said.
She said her decision to wrestle also came from people telling her she couldn't do it as well as her own interest in wrestling.
"I thought it would be a good experience to have," Hatfield said. "My dad said I would get Impetigo, and my mom said it's weird to wrestle boys, so I really wanted to prove them wrong. One time freshman year, I wrestled  [a boy on the wrestling team] and he couldn't beat me. I actually pinned him."
Hatfield said she initially had some difficulties becoming comfortable on the team, but they weren't permanent.
"I was afraid none of the guys would like to wrestle me and it was true at first," Hatfield said. "I would stand there awkwardly and then make one of the freshman go with me, but now they want to wrestle me because we're good friends."
Wrestling has been one of the most difficult sports for Hatfield to partake in. She said there are some disadvantages to being the only girl on the team.
"I'm in the locker room by myself, and it gets kind of lonely," Hatfield said. "It's super awkward because on meet days, all of the guys weigh in, then I get to go in. I get to go in the boys locker room, which is kind of exciting. It's just kind of uncomfortable because I have to wait for them all to get out, and then I go in and weigh."
She said her main goal is to go out and win some matches against the boys.
"I won a match at our first tournament, which was super exciting," Hatfield said. "There's also a girls State, so I'm hoping to go to that."
Hatfield said she hopes to serve an example for other girls who are told they can't compete with the boys.
"There's a lot of good wrestlers out there," Hatfield said. "I'm not one of them yet, but I hope someday to be. I also want to be a role model for girls who come after me that we as a people can do anything that boys can do as a people."