Tidal Wave
Last year, the boys swim team placed 16th at State. Senior Gehrig Westermajer, a sprinter on the swim and dive team, hopes for a win at State this year.
"We lost Ryan Richards, our best swimmer, and I'm going to have to take his place this year as the head swimmer," Westermajer said. "I'm hoping to win the 100 freestyle this year and place in the top six of the 200 free and 50 free at EKL and State."
After moving to Kansas in January of last year, Westermajer joined the team in the middle of the season.
"I feel like I clicked with the team really well," Westermajer said.
Westermajer has been swimming since eighth grade and made his school's swim team in Texas during his freshman year. Ultimately, Westermajer said his competitive drive is what pushes him to work hard and stay committed to the team and the sport.
"I've always been a really big competitor — it's in my blood," he said. "Whenever I win, I get this rush of joy. I love racing and I love competing — which is why I do this sport."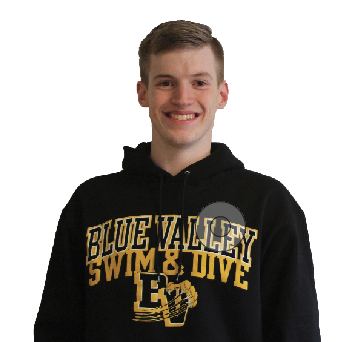 Even though the team is small this year, Westermajer said the team's hopes are still up for a chance at placing at State.
"We have a lot of promising swimmers coming back this year," Westermajer said. "We can work with him this year, and he'll do very well"
The swimmers give great time and effort throughout the season.
"We put in a lot of work every day," Westermajer said. "Waking up at 5 [in the morning] is one of the hardest parts, at least for me"
The team has a very strict practice regiment, practicing about 10 times a week, working in the weight room and doing yoga.
"We practice every day — in the mornings, we practice for about an hour and forty-five minutes. Westermajer said. "In the afternoons, we practice for about two and a half hours.
He said practices consist of two hours of swimming, half an hour in the weight room and doing yoga exercises. The team also completes a two-hour practice every Saturday morning. The team is strongly bonded, as a direct effect of being together all the time, Westermajer said.