A Critical Change to the BV Cheer Program
A new coach with a new team hopeful to gain new accomplishments
Blue Valley High's two-time National champions and State placers have begun the season with the brand new coaching staff. With a legacy of traditions and wins, the cheerleaders must learn to adjust to new leadership.
Junior Caroline Gorley expresses her enthusiasm for the year that is approaching.
"I'm extremely excited about the 2019-2020 cheer season because of the opportunities," Gorley said, "Having a new coach presents great future plans for the program."
The team will need to learn the new policy presented by the coaching staff.
"Our new head coach has input a strict set of rules for the squads so we represent BVHS effectively," Gorley said, "These rules consist of a new social media policy and required GPA that help us demonstrate the Blue Valley virtues."
Not only are there brand new rules, but the entire program will make a shift in the type of cheer that takes place.
"The program will shift from competition-focused to game day focused." Gorley said, "I think that will help take high school cheerleading back to its roots and allow us to build up the Blue Valley community."
The new policies are creating a positive program, but change can be difficult.
"Getting a new coaching staff is extremely intimidating because we risk a compromise in our reputation and the traditions we so strongly uphold," Gorley said.  
Gorley continues to have an optimistic outlook on the change.
"I am confident our new coaches have the best interest of the team in mind," Gorley said, "And will lead us to success and to a great senior year."
About the Writer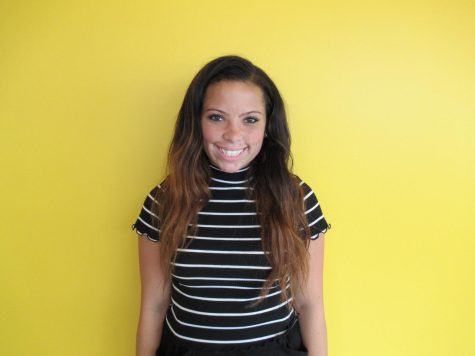 Shay Lawson, Co-Editor-in-Chief
Shay Lawson is a co-editor in chief for the Tiger Print. She is a senior at BVHS and is the captain of the varsity cheerleading squad, an executive tiger...