Slow Start to Season
Harsh weather prevents boys tennis team from practicing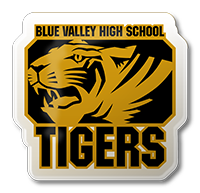 Although spring sports are in the middle of their season, the boys tennis team is still feeling the effects of the harsh winter.
Junior Kenneth Stroud says the extra snow days caused a late start for the team. "It started out really snowy, so we didn't get to start our season on time," Stroud said.
With many missed practices due to rain and snow, the team's performance has been less than they expected. "We've struggled. The season hasn't been great so far" Stroud said.
Despite a rocky start, the team has seen improvements in performance. "We finally won one game," Stroud said.
Stroud believes bonding with his teammates is the best part of the tennis season.
"It's fun and I enjoy playing with my teammates," Stroud said.
After this season Stroud plans to play tennis for Blue Valley again next year, "I'm excited for next year because it's my senior season and I'll be able to lead the team."