Four Years of BV Sports
Hang on for a minute...we're trying to find some more stories you might like.
Lauren O'Donnell- Dance Team
"We've grown so much as a program. We went from the first year being with color guard and band to now this year, we got to go be our own dance team and go to Nationals. It's just been a really great opportunity to get to know people and to be a part of something at the school and have opportunities in the future."
Lauren Wood- Golf
"It has really strengthened my character, and being able to be
a part of a team has been amazing. I have learned so much from the experience and can't wait to do it all again for another four years."
Cameron Green- Football
"It was really fun to have everyone cheer you on, and I'll never forget the memories on Friday nights."
Jeffrey Greenfield- Basketball
"Words can't describe it. It was just special."
Hunter Wilcox- Cross country/Track and Field
"It was hard. It was a lot of long runs, and I got to make some great friends on these long runs. It was a fun experience. I would do it again — maybe."
Gabby Lee- Tennis
"It gave me something to do at the school so I felt involved, and I got to know a lot of people outside of my grade."
About the Writer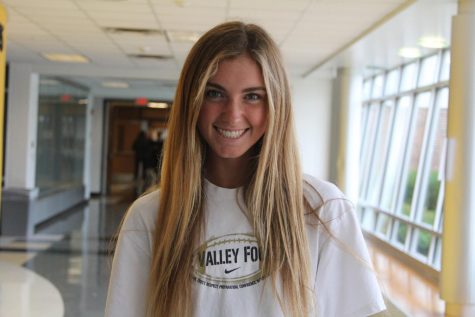 Molly Holmes, Staff Writer
Molly Holmes is a senior staff writer for "The Tiger Print." She runs track and cross country, is involved in Students Assist Schools, the Tiger Mentor...