Restore the Order
Continuing the spirit for 50 years with the Blue Valley Varsity football team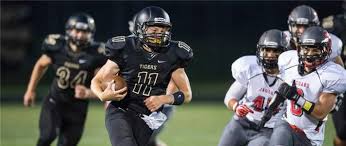 The start of school means one thing, the beginning of fall sports. Fall sports have always been a highly-anticipated period for blue valley students. One sport that most students look forward to, is football. BV varsity football started off on a rough start with a major loss to Saint Thomas Aquinas, but had a stellar comeback with  2 wins against Blue Valley North and Blue Valley Southwest. The team has been putting their focus towards their motto this year which is, "Restore the Order".  With many ups and downs over the past few years, the team and the coaches have never strayed away from keeping up the school spirit and playing their hardest. 
The fanbase for the school has always been there to back up the team as well. From leaving school early to support the team after a rain cancelation, to going all-out for teal day in support of Collin Wood and ovarian cancer, Blue Valley students have started out the season with the highest spirt possible. 
This week, the Tigers play Rockhurst High School in a competitive homecoming game. The theme is 24k gold to celebrate the school's 50 year anniversary. With the spirit already high, there is no doubt that Blue Valley students will bring the levels up even more to continue the rest of the season as fun-filled as possible.