Cheering on Blue Valley
The cheerleaders put in a lot of work and effort to support the Blue Valley sports teams.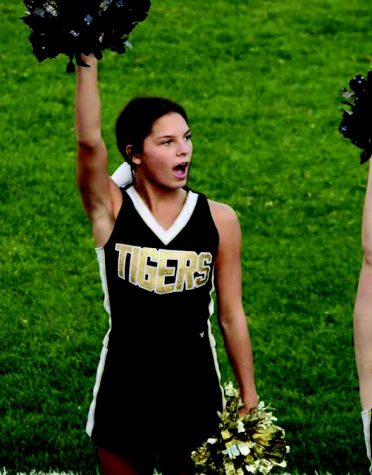 Sophomores Ella Quigley and Ava Quigley got involved with cheer last year. Their older sisters told them such good things and their memories with BV cheer, which is what persuaded both the twins to partake in BV cheer.
Ella has participated in all-star cheer at KCAC for eight years before BV cheer started. Ava has been dancing since she was 3 years old and is still dancing while participating in BV cheer.
Ella said being a cheerleader for the high school is a big responsibility and takes a lot of dedication and hard work.
I think BV cheer is definitely a commitment and is one of the reasons why I quit all-star cheer," Ella said. "We have practice 7th for the first semester and usually practice on Tuesdays, Thursdays, and Saturdays [for] about 2 hours."
BV cheer as a group provides sup-soccer, and basketball.
"My favorite is sport to cheer at football because it's probably the most interesting to watch," Ava said. "It's just very fun to see everyone at the game."
Sophomores, Ella and Ava Quigley made varsity cheer this year along with two other sophomores, Kate Gabel and Hadley Way.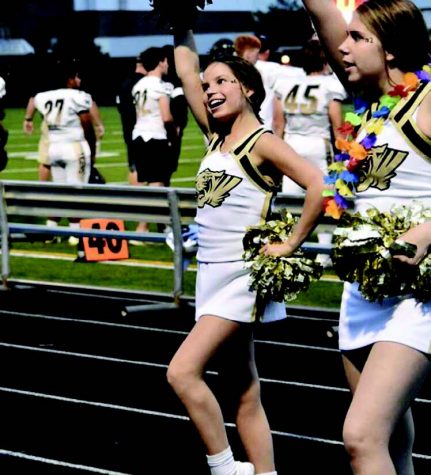 "It is really fun cheering with upper-classman and getting to cheer all four quarters of the varsity football games," Ella said. "Sometimes it's hard to not be able to cheer on my own grade because I want to see my friends play, but it also helps having three other sophomores on the varsity cheer team. Overall it is really fun cheering with older people."
Cheerleaders help the school out in other ways than supporting sports teams at games. They do extra fundraisers and community service to help the school and the surrounding community.
"Some examples are we do the car-wash fundraiser, and we also participate in the Price Chopper block party, and then we also participate in the Over Run which supports ovarian cancer," Ella said. "I think it's good we participate in fundraisers
Cheerleading can be frightening and cause a lot of nerves when it is time to perform the team's cheers, routines, and especially stunts. Also, it could be scary performing in front of the whole school and everyone that comes to sports events.
"I think at times it's very nerve-wracking cheering in front of a lot of people, especially people you know," Ella said. "But I like to perform and I've cheered basically my whole life and I like to entertain people and it's really fun.