Varsity Volleyball Players' Next New Chapter
Behind the scenes of Division-I volleyball commits
Ava Moore, Fall 2019 Journalism Student
October 18, 2019
Shooting above and beyond, two varsity volleyball players from Blue Valley are taking their game to the highest level in college as Division-I athletes.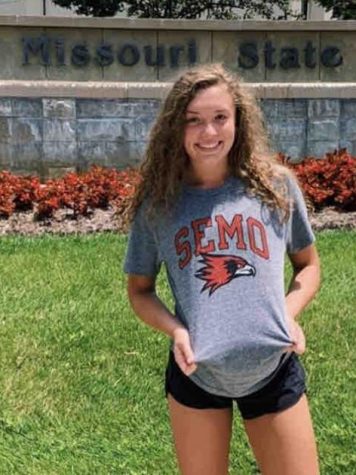 Trying to find the perfect school for a player's favorite sport can be long and difficult. The college commitment pro-cess includes sending videos to a college an athlete is interested in and having the colleges come watch during tournaments. Then, the coach will contact the athlete and they will be allowed to go visit the college.
"I went on like 10 or 12 visits before I decided, so I narrowed it down," said senior Addy McAleer, a Southeast Missouri State commit. There were schools where I really liked this and others where I was like I hate this. I kind of figured out what I wanted in a school."
Another part of the commitment process is finding a coach and a team that feels like the right fit. They also have to look at what positions are needed on the current team.
"I wanted to look for a coach who was truly invested in me," said senior Evelyn Diederich, a South Dakota commit. "When I went to visit other schools, head coaches were not great and the atmosphere that they had built was not great. My head coach is awesome; she is a mom and she has been doing it for so long. I just love her."
Furthermore, girls have to decide what division they want to compete in. The main difference between Division-I and the lower divisions is that Division-I competes at the highest level and typically includes larger schools. Division-II and lower divisions are smaller schools and compete at a high level, but do not have to deal with the strict eligibility rules of Division-I schools.
"I knew at first that I wanted to compete at the highest level," Diederich said. "That did not mean that Division-II was out of the picture, but I just knew I wanted to compete at the highest level from the get-go."
Another part of the commitment process is the pressure of signing to a college. Girls can start getting verbal offers from colleges as early as eighth grade. However, the rule on signing is that the recruiting will start on June 15 after the end of a player's sophomore year.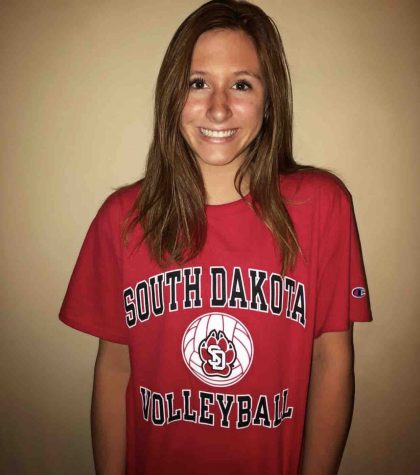 Girls do not officially sign the forms and papers until their senior year. Diederich committed earlier than most, while McAleer decided to commit later.
"I had some pressure, but I also like to think things out, which is why I committed very late to figure out the right thing for me," McAleer said. "It was better for me to wait and not get as stressed about it and to know that everything was going to work out when it was going to."
As these two athletes continue their journey in college, they will be preparing through extra training, conditioning and taking on leadership positions on their high school and club teams. Heading on to the next chapter, they both would love to make it to the NCAA tournament, where 64 of the top Division-I schools will compete in a tournament to claim the champion of these teams. For aspiring college athletes, Diederich gives some advice on pursuing sports at the college level.
"I would say to put yourself out there and make yourself known in the recruiting world," Diederich said. " Your academics really do matter when applying for a college and when looking for a college that is right for you."