Snow-Flicks
It's a Wonderful Life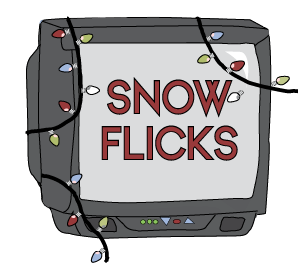 Genre: Classic
On the Christmas Eve of Bedford Falls, the guardian angel Clarence gets assigned to George to ensure he does not commit suicide. Throughout the movie, we see George's lasting impact on the people in his life even though he thinks he is worthless.
SHAY This movie was adorable. There were so many different elements like family, loss and revelation that made the plot unique. It is a must-see this holiday season.
SADIE I'm usually not a fan of black-and-white movies, but I really enjoyed the plot line, so it didn't bother me this time. The story was inspiring and the whole cast was genuine with their roles.
The Night Before
Genre: Comedy
On Christmas Eve, life-long friends spend the night in New York City in search of the greatest party ever.
SHAY This movie offers diversity this holiday season. It follows the festivities of a Jewish man. The movie is hilarious, but is also warm by showing that friendships can remain strong throughout adulthood.
SADIE Although it is rated R, I loved this movie. Along with the laughs, I teared up a couple times, too. This movie shows the real side of life. It subtly reminds viewers what true friends look like. They're always there to support you, but for the fun, too, of course.
Christmas with the Kranks
Genre: Comedy
A couple decides to skip Christmas after their only daughter goes out of town. It ends up being far more difficult than they expected when even the community seems affected by their new definition of a holiday break.
SHAY This movie is full of so many positive themes. In the film, the Krank family tries to boycott Christmas. This movie is a great example of the true meaning of the holiday spirit.
SADIE I really enjoyed not only the plotline but I was familiar with all three of the lead actors, which made me love it even more. This movie was very unpredictable, which is what made it so funny. I never once got bored or thought about turning it off.
Holiday Breakup
Genre: Romance
A young couple break up just before the holiday season. Instead of facing the season-long pity party, they decide to pretend to be together.
SHAY Although the actors in this movie are unfamiliar, this movie kept me entertained from beginning to end. The soundtrack was strong within the film. The plot was somewhat confusing, but the warm tone is definitely worth the watch.
SADIE The plot seemed really cheesy to me, but the movie was done well. I enjoyed that it wasn't the typical love story. While parts of it seem predictable, it was the unexpected things that kept me so entertained.
Holidays
Genre: Horror
"Holidays" features eight short films — each one relating to a different holiday.
SHAY I know what you're thinking — horror holiday film? This movie is for the people who enjoy being scared. There aren't many Halloween-Christmas movies, but this film keeps the audience on the edge of their seats, which I find captivating.
SADIE I am not a fan of scary movies at all, so I didn't really enjoy this one. But if you're into the creepy or terrifying type of movies, check it out.