Fall Recipes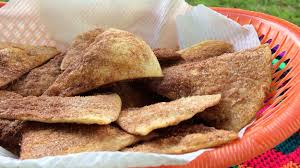 Churro Chips:
DIRECTIONS
Preheat oven to 425°.
Cut each tortilla into 8 triangles.
Toss tortillas in butter, making sure both sides are coated.
In a medium bowl, combine cinnamon and sugar.
Working in batches, toss tortillas in cinnamon sugar.
Place on a large baking sheet in a single layer.
Bake until crispy for 8 to 10 minutes.
Cool on pan 5 minutes before serving.
INGREDIENTS
6 medium flour tortillas
4 tbsp. melted butter
1 c. granulated sugar
1 1/2 tbsp. Cinnamon
https://www.delish.com/cooking/recipe-ideas/a28581106/churro-chips-recipe/
Pumpkin Fudge:
DIRECTIONS
Line an 8"-x-8" pan with parchment paper and grease with nonstick cooking spray.
In a large microwave-safe bowl, combine white chocolate and sweetened condensed milk. Microwave on medium power for 1-minute intervals, stirring after each minute, until smooth.
Fold in pumpkin purée, pumpkin spice, vanilla, and salt until smooth.
Pour into prepared baking pan and place in the refrigerator for 3 hours, or until fudge is set.
Sprinkle with more pumpkin spice if using.
Cut into squares and serve.
INGREDIENTS
3 1/2 c. white chocolate chips
1 (14-oz.) can sweeten condensed milk
1/3 c. pumpkin purée
1 tsp. pumpkin spice, plus more for dusting (optional)
1/2 tsp. pure vanilla extract
Pinch kosher salt
https://www.delish.com/cooking/recipe-ideas/a22130485/easy-pumpkin-fudge-recipe/
Caramel Apple Smores
DIRECTIONS
Toast marshmallows until golden.
Sandwich s'mores by topping one apple slice with a Hershey's square and two toasted marshmallows.
Drizzle with caramel, and top with a second apple slice.
Repeat to make four apple s'mores.
INGREDIENTS
8 marshmallows
2 Granny Smith apples, thinly sliced and cored
4 squares Hershey's chocolate
Warm caramel, for drizzling
https://www.delish.com/cooking/recipe-ideas/recipes/a54543/caramel-apple-smores-recipe/
Pumpkin Butterscotch cookies
DIRECTIONS
Preheat oven to 325 degrees. 
In a medium bowl, combine flour, baking powder, baking soda, salt and cinnamon. Mix until well-blended.
In the bowl of an electric mixer, combine eggs and sugar, and beat on medium-high until smooth and pale, about 1 minute. 
Beat in the oil, pumpkin puree and vanilla extract and mix until well-combined. 
Turn the mixer down, and slowly blend in the flour mixture until just incorporated. 
With a rubber spatula, gently fold in the butterscotch and chocolate chips.
Using a medium-sized ice cream scoop, place mounds of cookie dough on a cookie sheet lined with parchment paper, about 2 inches apart. 
Allow to bake about 15 minutes, until the cookies are springy to the touch. 
Cool.
INGREDIENTS
2 c. flour
1 1/2 tsp. baking powder
1 tsp. baking soda
1/2 tsp. salt
2 tsp. ground cinnamon
2 eggs
1 c. sugar
1/2 c. vegetable oil
1 c. canned pumpkin puree
2 tsp. vanilla extract
1 c. butterscotch chips
1 c. semi-sweet chocolate chips
https://www.delish.com/cooking/recipes/a44396/pumpkin-chocolate-butterscotch-chip-cookies/?visibilityoverride