Building a Brighter Future
BV senior creates equipment for people in need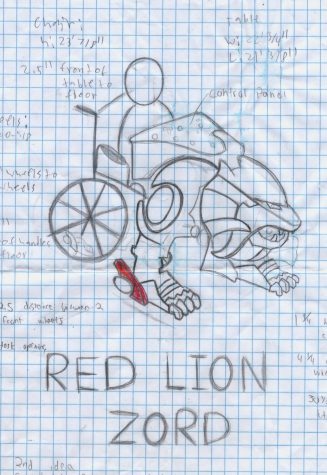 At the Blue Valley Center for Advanced Professional Studies (CAPS), students have the opportunity to explore careers they're considering pursuing in the future. Senior Annie Overman is a part of the engineering strand at CAPS and proves just how impactful her passion can be.
"I got involved in CAPS because I like that I'm able to get [real-world] experience [revolving around] what I'm interested in," she said. "In the engineering strand, you are [assigned] clients. They tell you want they need built, and you design and create for them on your own or with a group."
As an engineering student, Overman has been able to build projects for people in need.  
"[In October,] my group built a Halloween costume for a 10-year-old boy, Shane, who is wheelchair bound," she said." The class connected with the boy through an organization called Walkin' and Rollin', which provides children with special needs equipment a custom costume, free of charge.
"With the [average] Halloween costume, Shane's wheelchair table would cover up most of his costume," she said. "In our CAPS class, we designed and created a Power Ranger costume for him, like he wanted, that went over his wheelchair.  [The costume] even has its own control panel with functioning buttons, like one that turns on lights in the front of the [ensemble]."
Overman said she was proud of their final product, and seeing Shane's reaction was a truly special experience.
"Shane was so happy — at one point he pressed all of the buttons we included on his costume and he said, 'I'm in heaven,'" she said. "It's really great to see the work you put in make a difference in someone else's life."
Shane's Halloween costume isn't the only way CAPS engineering students are making a positive impact. The students are able to reach out to a variety of people in need, especially with the program's 3D-printing capabilities.
"Last semester, my project was to create a prosthetic arm for a little boy who was born without one," she said. "Since the boy is still growing, his family didn't have the financial means to buy him a fancy electronic arm, just to purchase a new one [in a few years] when he grows. We were able to make an arm for him for free."
In the future, Overman plans to continue to use her talents to reach out to more people across the globe.
"I'm hoping to get involved as a Civil Engineer with Engineers without Borders, which is an organization that [travels] to third-world countries to [assist] in rebuilding infrastructure, such as transportation and water-filtration systems," she said. "Any type of engineering can impact [others] in a pretty big way."